Queen Latifah And Monie Love Reunite At De La Soul Tribute
Common, Chuck D, Dave Chappelle, and others attended The DA.I.S.Y. Experience at Webster Hall in New York City.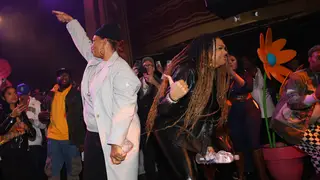 A lot of hip-hop history came together on Thursday night (March 2) during The DA.I.S.Y. Experience – a bittersweet tribute celebrating the life and legacy of Trugoy the Dove, who tragically passed away last month.
DJ sets from D-Nice, Clark Kent, Rich Medina, Tony Touch and Stretch Armstrong set the musical background for the night, which featured surprise appearances from Common, Talib Kweli, Busta Rhymes, Queen Latifah and Monie Love.
The latter two artists reunited to perform their 1989 collaborative record "Ladies First," while Common performed "The Light" before he kicked a freestyle and traded bars with Kweli.
Other attendees included Chuck D, Prince Paul, Black Thought, Just Blaze, Pharoahe Monch, Large Professor, and even Dave Chappelle, who counted down the moments before De La Soul's entire catalog was officially made available on streaming platforms.
Also, during the night, Posdnuos and Maseo took a moment to pay tribute to Trugoy, who died on Feb. 12 at age 54.
"The first person I met was this beautiful human being named Regina Peter, and she made me feel really good about myself," Pos told attendees. "The second person I met was a brother named Mike Jolicoeur. For those of you that don't know, Mike Jolicoeur is the brother of Dave Jolicoeur, and he meant everything to me.
"By me meeting him, we forged a relationship, became brothers, became more than brothers," he continued. "Became partners, in sum that created an energy that everyone around the world has humbled us by respecting and loving," he continued. "I am truly thankful for all of you that are here. You best believe my n**ga Dave is looking down right now on everything."
Mase also chimed in briefly: "I usually have a lot of words to say, but I'm at a loss for words, yo. My emotions are very displaced. My man is gone, but I appreciate all of y'all all these years for support."
The pair also ran through "Stakes is High," "Potholes in my Lawn," and "Me Myself and I."
The DA.I.S.Y. experience was produced in conjunction with Amazon Music.