French Montana Released From The Hospital Same Day His Album Came Out
French was hospitalized two weeks ago after experiencing cardiac issues.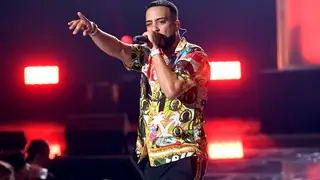 French was hospitalized after his health suddenly took a turn for the worse in a scary turn of events.
The rapper has been in ICU for the past two weeks while he recuperated from the symptoms after he was previously taken to a Los Angeles hospital after experiencing cardiac issues, including dehydration and stomach pains. The "Unforgettable" MC was in high spirits and looked to be in good health on Thursday (Dec. 5) after he posted an update on Instagram where he shared that he had been discharged from the ICU. In the celebratory post, he graciously thanked everyone for their well wishes, writing "thank you everyone for all of the prayers, love and support. I'm finally out of ICU and am getting better one day at a time!!!"

It [appears] French is on the path to a full recovery. TMZ reports that French was reportedly released with a clean bill of health on Friday (Dec. 6), which is also the same day that his brand new Montana album dropped. 

However, though he's out of the hospital, he is not out of the woods just yet. French has a long road to recovery ahead of him. Doctors reportedly recommend that the Coke Boy artist needs to be on bed rest for the next 30 days at minimum and gently ease back into work. That means no working, traveling, exercising, performing or partying for the next month, which is probably easier said than done given his line of work. So, it'll probably be a while before French can make a full return to form.

Continuing to wish you a speedy recovery, French!