Da Brat's Wife Jesseca Dupart Surprises Her with Brand-New Tesla As Pre-Push Gift
The mom-to-be called her new vehicle the "mommy and me car."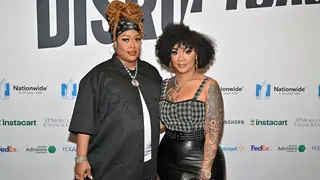 Da Brat has not given birth yet, but she already has a new fly ride for when the baby arrives.
The rapper was surprised during what she thought was a food outing. On Tuesday (July 4), the rapper shared a video to Instagram of her wife Jesseca Dupart surprising her with a pre-push gift, as reported by Vibe. And the gift? A brand-new Tesla.
Da Brat dedicated a heartfelt message to Dupart in the video, writing in part, "When Shalamar made "Never Knew Love Like This Before," they wrote it for ME! We UNDERSTAND one another. Some people STILL never ever find what we have in a whole lifetime."
The video opens with the couple dressed alike in white t-shirts, gray joggers, and yellow Crocs as the expectant mom asks, "What are you doing? You said we were going to get something to eat." She was crying so much that she asked Dupart for a tissue.
As Dupart wipes her tears away, she warmly asks, "Why would you do this?"
Overwhelmed with emotion, Da Brat asked if the moment required anything from her. "You just have to pick the one you want", Dupart said as they stood in front of four Teslas in four different colors –red, white, blue, black– each with celebratory trimmings to match each vehicle.
In the video, Da Brat reflects on their relationship, saying, "Like all this is crazy. People only dream of s–t like this. And I am so blessed to be able to experience it."
She continued, "I'm so blessed to have my wife because of her heart. She loves me so much."
"It has nothing to do with the gifts or the money, or the lifestyle we live in between. The conversations we have. The ups and the downs. How we get through s–t. The balance that she and I have. We get into it; we're human. But we come out okay all the time. And It's just a blessing."
"Thank you, God. You can't ask for nothing better."
Calling it her "Mommy and me car,"Da Brat seemingly chose by sitting in a white Tesla inside the dealership.