Vice President Kamala Harris To Officiate Wedding of New Mexico Governor Michelle Lujan Grisham
The first-term democratic governor will marry her longtime fiancé in a small ceremony in D.C.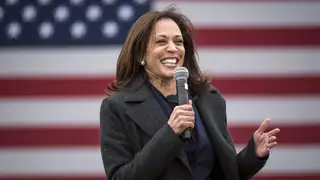 Vice President Kamala Harris will be helping wedding bells ring for the first couple in the Land of Enchantment.
She will officiate the marriage of first-term governor of New Mexico, Michelle Lujan Grisham, and her fiancé, businessman, Manny Cordova.  Harris will unite the pair in matrimony in a small ceremony to be held in May in Washington, D.C.
The Associated Press reports Lujan Grisham will take a break from running for reelection to tie the knot, something the couple had postponed in 2021. "We're delighted to celebrate our wedding in front of family and close friends," Lujan Grisham and Cordova said in a joint statement. "Like so many New Mexicans, we've postponed family celebrations over the past two years during this pandemic. We feel fortunate to be with our loved ones in celebration of our marriage."
Both Lujan Grisham, 62, and Cordova, 66, were previously married and have adult children and grandchildren. Lujan Grisham had been married to her first husband, Gregory Grisham, for more than 20 years until his death in 2004.
Lujan Grisham, a Democrat, was elected as the second woman elected to governor of New Mexico, and has served since 2019.