Popular Test Underestimates Black Women's Breast Cancer Risk
Prediction model falls short on estimating Black women's risk of developing an aggressive form of breast cancer.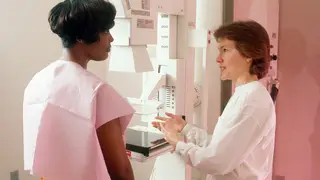 An important factor in treating breast cancer in women, especially in Black women, is trying to understand what makes us more vulnerable to developing the disease.
Currently, many researchers around the country use the CARE model to assess Black women's risk. It's modeled after the Gail method, a prediction model based on white women's risk. But a new report suggests that this CARE model, even with its good intentions, may not be our best bet.
The study noted that a lot is going on.
The CARE model is missing important prediction factors. One of which being, "How many children a woman has and how old she was when she had her first baby." Lead researcher Dr. Deborah Boggs told BET.com that the younger you are when you have your first child and having more babies lowers your risk of ER-positive cancer.
None of this is included in the CARE model.
Boggs said that across the board, researchers just don't know enough about ER-negative cancer, which also plays into why these models underestimate our risk.
"But here is what we know, that more accurate prediction, the better chance a woman has to be enrolled in a prevention trial. And if we are underestimating Black women's risk, the women who need these trials the most, they won't be included in [a prevention trial]."
This is why Boggs and her colleagues are calling for better prediction models and more research, in hopes to save more Black women's lives.
"Perhaps by having more Black women in these trials at a sooner age, we can talk about the need for Black women to get screened earlier, like age 40, given that ER negative breast cancer hits Black women earlier than white women."
Learn more about ER-negative cancer and other forms of breast cancer here.
BET Health News - We go beyond the music and entertainment world to bring you important medical information and health-related tips of special relevance to Blacks in the U.S. and around the world. Click here to subscribe to our newsletter. 
(Photo: Getty Images/STOCK)