Justice Clarence Thomas Says He Has 'No Clue' What Diversity Means As Supreme Court Weighs Affirmative Action
As opening arguments began in two high stakes cases, the judge asks a presenting attorney for an explanation of what diversity is.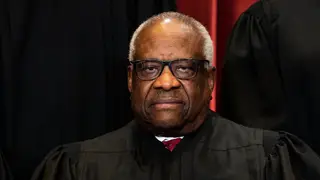 The U.S. Supreme Court heard opening arguments on Monday (Oct. 31) in major affirmative action cases which could decide the fate of diversity in public and private universities. In a strange exchange, Justice Clarence Thomas, who has admittedly benefited from affirmative action, said he has "no clue" what diversity means.
The importance of diversity was mentioned several times as the court heard a challenge against the University of North Carolina Chapel Hill over its admissions process. Thomas asked North Carolina's solicitor general Ryan Park, who represented the university, "I've heard the word diversity quite a few times and I don't have a clue what it means. It seems to mean everything for everyone."
He continued, "I'd like you to give us a specific definition of diversity in the context of the University of North Carolina, and I'd also like you to give us a clear idea of exactly what the educational benefits of diversity at the University of North Carolina would be."
RELATED: Biden Administration Asks Supreme Court To Reject Harvard Affirmative Action Case
He also stated diversity results in "deeper and richer learning environment," a "more creative thinking and exchange of ideas," and "reduced bias."
Thomas responded with: "I didn't go to racially diverse schools, but there were educational benefits."
Thomas grew up amid the stark segregation and racism of Georgia in the 1950s and 1960s but would again be admitted into Yale Law School due to their affirmative action policy, which began in 1971.
In the long exchange, Park stressed the benefits of diversity, eventually saying, "The mechanism there is that it reduces groupthink and that people have longer and more sustained disagreement, and that leads to a more efficient outcome."
Thomas then compared Parks' analysis to segregation, "I guess I don't put much stock in that because I've heard similar arguments in favor of segregation, too."
The justices will hear two affirmative action cases on the docket. The cases challenge the use of race in admissions at both UNC, which is public and Harvard University, which is private. Newly appointed justice Ketanji Brown Jackson will hear the University of North Carolina case but has recused herself from the Harvard case because she served on the school's governing board.

A decision on both cases is not expected until sometime in 2023.