Soulja Boy Commits To Acting With His Debut Revolt Show, 'The Life of Draco'
The show will include behind-the-scenes footage from the upcoming Millennium Tour.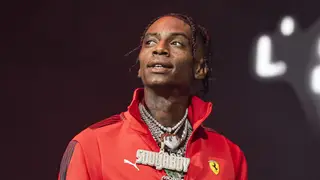 Earlier this year (Jan 5), 31-year-old rapper Soulja Boy took to Instagram Live to declare he was diving into the Hollywood side of things and was officially done with rapping.
"2022, my new TV show coming out January 21st, Revolt TV. Shout out to P Diddy," he says on the live. "'Big Draco' new tv show, January 21st … I'm an actor now," he continued.
While Soulja Boy has a track record for getting on his Instagram feed to say literally anything and while the show's name may be a little … off, the Chicago-born artist wasn't telling a fib.
Wednesday (Jan. 19), Shadow and Act officially announced that the "Crank That" creator is indeed debuting a new show, titled Life Of Draco exclusively on the REVOLT app as a six-episode series showcasing him navigating his rambunctious career.
​​"It was good to partner with REVOLT because they've always supported me and they've always just been a dope platform so it was kind of a no-brainer," Soulja said to Shadow and Act. "They really believe in the show and I could've done the show with anybody, but I wanted the platform to be right and to be represented the right way. I also want my fans to be entertained so I definitely think making them the home for this series was the perfect choice."
In addition to documenting the ebbs and flows of his career, fans will get exclusive behind-the-scenes footage from the latest Millenium Tour where made frequent appearances alongside Bow Wow, Omarion, Sammie, and others.
"It was a dope experience and it just let me know that I have a lot of fans out there who still love my music till this day," he said. "My catalog is long and I just want to keep it going. It made me want to extend it to where in another 10 years I'll be doing another Millenium tour. It was definitely an inspiration to perform alongside people that I came up watching on TV. It was a surreal experience for me that I can't wait to share with fans throughout the show."
Born DeAndre Cortez Way, there is truth to his on-running "first rapper to" joke, as he was very much ahead of his time in terms of social media marketing, merchandising and independence. From gaming consoles to strains of weed, the "Donk" musician has always been one to look for the next "thing" and it appears his partnership with REVOLT is it.
Diddy and company appear to be pleased with the partnership as well. "REVOLT is a platform for the most influential voices in culture to express themselves unapologetically," said the company's CEO Detavio Samuels. "Soulja Boy is an innovator who has inspired a new generation of artists to pursue their dreams; it only makes sense that he is now the first rapper to have a series exclusively on the REVOLT app."
Notching almost 15 years in the game, Soulja Boy says that this series is just the beginning of something bigger.
"This will open up so many opportunities," he explained. "It will give people a look into my life to see where I'm going and also where I've been. I'm definitely trying to get into acting and I want this to start it off. It's the beginning of the year so just stay tuned because there's more to come."
Life Of Draco premieres Friday, Jan. 21st at 5:00 p.m. ET, exclusively on the REVOLT app.