Notorious B.I.G.'s Mom Voletta Wallace Introduces Her Son To The Metaverse
It's in honor of the Hip Hop legend's 50th birthday.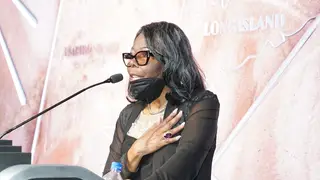 In honor of what would have been his 50th birthday, Hip Hop legend Notorious B.I.G. has gotten a grand introduction to the cryptocurrency market and has officially entered the megaverse.
On Saturday (May 21), the Brooklyn native's mother, Voletta Wallace, celebrated her son's posthumous entrance into the Web3 community in a loving Instagram post, which letting her reveal just how many years in the making it's been for the project.
"I'm humbled and very excited to share what we've been working on for 2 years, which is now ready for Biggie fans new and old to enjoy," Wallace wrote. "Today we bring my son Christopher's Hyperrealistic avatar in The Brook metaverse to the world.. I believe you will love it as much as I do.."
The Christopher Wallace Estate announced the first official Biggie NFT (non-fungible token) collection in partnership with the Quincy Jones-backed Web3 company OneOf. A percentage of the proceeds from the NFT collection will be donated to The Christopher Wallace Memorial Foundation.
Voletta Wallace was an honored attendee of the event at the Empire State Building, and thanked everyone for the one-of-a-kind moment in an IG post.
"Tonight, the Empire State Building went B.I.G. Lighting up the city for my Son," Wallace wrote. "Thank you for everyone who made this possible."