Progression Over Fear: The Birth of LGBT Acceptance in Hip-Hop
Is the gap being bridged?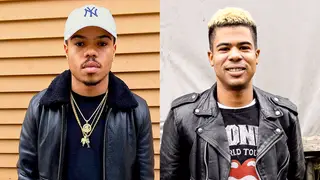 Sexuality through the lens of hyper-masculinity has had its struggle with fitting into the world's natural progression for decades — particularly in hip-hop. Once upon a time, the idea of being outwardly queer while simultaneously being a thriving member of the hip-hop community was considered a death sentence both literally and figuratively. This notion has become somewhat expired or vastly revised.
Whether it be up-and-coming artists like Taylor Bennett making their sexual identity known prior to their big breaks or more established acts like iLoveMakonnen doing so after becoming a bit more seasoned, hip-hop's reception is a bit warmer and the pressure to be accepted is refreshingly less apparent than ever before.
Hip-hop's violent approach to preferences outside of the wider Black heterosexual community dates back to the genre's inception in the 1970s, when the hard-hitting elements of beat-boxing, graffiti writing and MCing took precedence. At this time, all of these sub-categories of the culture were considered expressions of hyper-masculinity that the heterosexual community once believed could only be authenticated by straight men, disregarding the talents and abilities of both women and LGBT-identifying artists within the genre.
With the artists who led the revolution including the likes of Grandmaster Flash, Afrika Bambaataa, The Furious Five, Doug E. Fresh and Kurtis Blow, this hard-as-nails aesthetic was pushed even further, the narrative only intensifying as the rest of the world caught on. Particularly, with the introduction of hardcore street rap, which brought to light some of the genre's most celebrated faces like Nas, the Notorious B.I.G. and the Wu-Tang Clan, the chest-beating "it is a man's world" disposition was further heightened.
Now, with the slow progression of time and more knowledge of safe spaces and communities being established, this broken record has slightly begun to skip, with a slew of openly gay and bisexual rappers emerging and making moves. Particularly, the New York club traditions — which have birthed the likes of drag culture as highlighted in the iconic documentary Paris Is Burning — have instilled a freedom in these artists that extends beyond the internet, showing that there actually is a place in mainstream hip-hop for expressions that were once never explored.
Several artists who have not only embraced their sexuality but used it as the focal point of their material include Cakes Da Killa, Le1f, Young M.A and even bigger names like Big Freedia, Mykki Blanco and even Azealia Banks — to a degree. What is even more positively polarizing, though, is that their music does not serve as a measuring system to validate their sexuality to the masses. Rather, it's used as a springboard to tell stories that are true to their lives, as that is essentially where the true essence of hip-hop lies: beneath the belly of truth and emotion.
Breakout star Young M.A explained during a feature with Vogue that she is actually a true testament to this philosophy, saying, "I held in being sexually attracted to women for so long that once I got that out of me, the music became easy."
From MCs like Le1f making his sexual experiences the subjects of his raps to Cakes Da Killa's unfiltered approach to the musical journeys of lust, regret and rage over a Jersey club beat to Angel Haze's more introspective look into her past of addiction, abuse and sexuality, the LGBT presence in hip-hop is needed as it is more diverse within the subculture than many believe. What's also noteworthy and often a point of ignorance for many is that very few of these artists directly address the challenges of being homosexual or bisexual in hip-hop, a fight they've endured more than any other in their journey to recognition.
Even delving into the mainstream hip-hop market most recently, the likes of Frank Ocean and Chance the Rapper's brother Taylor Bennett — an MC, himself — have come out as bisexual in 2012 and 2017, respectively. The narrative continues to extend as "Tuesday" rapper iLoveMakonnen took to Twitter to share with the world that he is a gay man. It is these unapologetically self-inspired motivations that help propel the conversation of what it means to be gay and bisexual in hip-hop.
The fight for inclusion should not be misconstrued as an embracing of reclusion, though, as some of the genre's most iconic and long-standing figures like Common, Jay Z and Fat Joe have vocally expressed their support for the LGBT community, especially in the vein of hip-hop. What makes their support more welcomed is the organic spaces from which several of their experiences originated. For instance, the Oscar-winning MC explained that it took his fans calling him out on his once-homophobic musical rhetoric and a gay friend coming out to him to change his perspective. Jigga, an artist whose hip-hop career spans more than two decades, sees LGBT discrimination as a human rights issue.
"It's no different than discriminating against Blacks," he said when expressing his thoughts on marriage equality in 2012. "It's discrimination. Plain and simple."
There are still detracting words shared by some of hip-hop's established artists like Beanie Sigel and Erick Sermon, whose respective issues with "this homosexuality s**t" and perpetual inclinations of murder against gay and bisexual men that contribute to the snail's-pace progression of acceptance. The road to widespread respect of the music, regardless of sexual identity, is yet to be seen. However, with the gradual turn of events currently happening, one thing can be proven: though history can never be rewritten, the plans for the future can always be revised.