Trump Has The Racist Nerve To Tweet Sweden Let Down 'Our African American Community' Over A$AP Rocky And Twitter Goes Ballistic
"I didn't realize Prime Minister Stefan Löfven was President of the United States."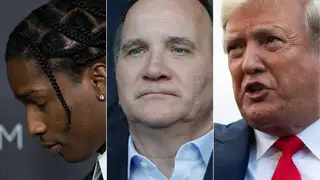 Usually Donald Trump's tweets are dripping with irony, but a pair of ones he put out earlier today (July 25) really got Twitter going.
The president, on the advice of Kanye West and Kim Kardashian, has recently tweeted about trying to get A$AP Rocky released from a Swedish prison. And so far, those attempts have been unsuccessful.
Rocky was officially charged with assault earlier Thursday and it allegedly caused Trump decided to turn on Sweden's Prime Minister, who he previously praised, over the Harlem rapper's continued imprisonment.
"Very disappointed in Prime Minister Stefan Löfven for being unable to act. Sweden has let our African American Community down in the United States," Trump tweeted Thursday afternoon. "I watched the tapes of A$AP Rocky, and he was being followed and harassed by troublemakers. Treat Americans fairly!"
He later added, "Give A$AP Rocky his FREEDOM. We do so much for Sweden but it doesn't seem to work the other way around. Sweden should focus on its real crime problem!"
Well, this didn't go over particularly well with the "African American Community."

Twitter exploded over the two tweets and their irony. See some of their reactions below.