DOJ Seeks Zimmerman Tips: If You Know Something, Say Something
The Justice Department asks for the public's help with George Zimmerman investigation.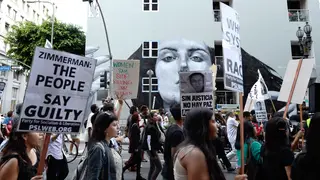 The Justice Department appealed to a group of civil rights and community leaders in a conference call earlier this week to lend a hand in the investigation, the Orlando Sentinel reports. It also has set up a public email address for the public to share any relevant information that could help the effort. The address is Sanford.florida@usdoj.gov.
DOJ, FBI and other federal officials "were calling on us to actively refer anyone who had any information. They said they would very aggressively investigate this case," Barbara Arnwine, president of the Lawyers' Committee for Civil Rights Under Law, told the publication.

BET National News - Keep up to date with breaking news stories from around the nation, including headlines from the hip hop and entertainment world. Click here to subscribe to our newsletter.
(Photo: Kevork Djansezian/Getty Images)