Lizzo Fan Posts An Emotional TikTok Video Thanking The Singer: 'I Might've Gotten A Few Tears On Your Dress Lizzo!'
Watch the video that's going viral on social media.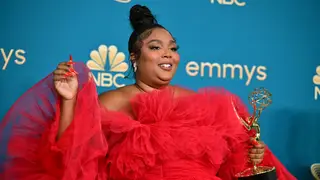 Lizzo has made a fan's dream come true when she reportedly gifted her a fabulous gown! The loyal follower of the star took to TikTok to share the kind gesture by the multi-talented singer.
"I might've gotten a few tears on your dress @lizzo, my bad babe! Words don't suffice, and thank you isn't enough," Aurielle Marie captioned the emotional TikTok video that played Lizzo's "2 Be Loved" in the background. "But THANK YOU! I'm speechless. Y'all! A b**ch is certified LIZZO SIZED!!!!!! And LOOK AT THIS GOWN! @Out Magazine here I come!"
Check out the now viral video:
Comments began to flood as other fans celebrated the thoughtful gift, including one that read: "All of us are screaming for you like we are there with you!"
This is certainly a way to show love to a fan! At this time Lizzo has yet to publicly respond to the post.