Brittney Griner, Teammates Harassed At Dallas Airport, Increasing Calls For Enhanced Security For WNBA Players
The incident became so heated that law enforcement was forced to tackle the man before escorting him away.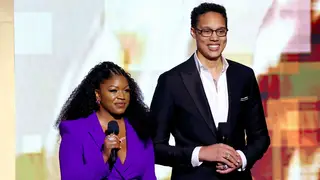 Prompting calls for "enhanced security," WNBA star Brittney Griner and her teammates were harassed by a man described as a social media "provocateur" while enroute to a game Saturday at the Dallas airport.
Griner, traveling with the Phoenix Mercury, was confronted by the man at the Dallas Fort Worth International Airport about 9:30 AM CT. He was yelling at her about "the Merchant of Death," according to CNN. The outburst got so heated that law enforcement was forced to tackle the man, the report notes.
The athlete, a two-time Olympic gold medalist, was released in a prisoner swap that involved Russian arms dealer Viktor Bout, who is known as the "Merchant of Death, after nearly 300 days in Russian custody. The exchange ignited criticism from some Republicans, who accused the Biden administration of releasing a dangerous prisoner back to Russia, CNN previously reported.
The WNBA said in a statement the encounter was "orchestrated by a social media figure and provocateur. His actions were inappropriate and unfortunate."
Griner's agent, Lindsay Kagawa Colas, said in a post on Twitter that Griner and WNBA players "are leaders who inspire hope for a better, more inclusive and less divided America."
"They are celebrated for the ways their activism inspires positive change," she writes. "In doing that, they also become targets for hate, threats and violence. We cannot celebrate these women and their leadership without also protecting them. It's past time for charters and enhanced security measures for all players."
Ahead of the season, the WNBA said it worked with Phoenix Mercury and Griner "to ensure her safety during her travel, which included charter flights for WNBA games and assigned security personnel with her at all times," the report says.
"We remain steadfastly committed to the highest standards of security for players," the statement reads.
It was unclear if Griner was traveling on a charter flight when the incident took place, the report says.
The Phoenix Mercury said in a statement that the team is "reviewing the incident," CNN writes.