Caribbean Nations To Formally Demand Reparations From Royal Family
King Charles has expressed 'personal sorrow' for slavery but hasn't apologized.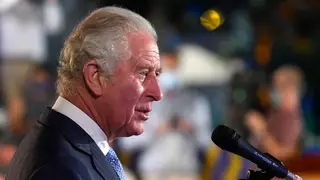 Former British Caribbean colonies plan to send letters demanding an apology and reparations for slavery to the British royal family and other British institutions involved in the trans-Atlantic slave trade, The Guardian reports.
National reparations commissions in the region plan to send the letters to the British royal family, the Church of England, Lloyd's of London, and others by the end of this year.
British monarch King Charles III previously expressed "personal sorrow" for the suffering caused by the slave trade and vowed to "deepen my own understanding of slavery's enduring impact."
However, he has not formally apologized. Britain's global shipping industry transported an estimated 3.2 million enslaved Africans to its colonies. Evidence suggests that the monarchy and the current royal family directly benefited from the slave trade.
"We are hoping that King Charles will revisit the issue of reparations and make a more profound statement beginning with an apology and that he would make resources from the royal family available for reparative justice," Arley Gill, chair of Grenada's reparations commission, told The Telegraph, calling for a discussion with the king about an appropriate amount of financial compensation.
Shortly before Charles' coronation in May, The Guardian reported the discovery of documents showing that the king's ancestor, Edward Porteus, was involved in buying at least 200 shackled Africans from the Royal African Company in 1686. Slave traders took the enslaved Africans to his Virginia tobacco plantation.
The Guardian also reported in April on a previously unseen document that shows infamous slave trader Edward Colston transferring Royal African Company shares to King William III in 1689, prompting Buckingham Palace to release a statement saying that Charles supports further research into the relationship between the British monarchy and the historic enslavement of Africans in its colonies.
While the royal family has not apologized, other British institutions have admitted to the sins of the past.
Reuters reported that the Church of England confessed in January that church leaders knew they were investing in the trans-Atlantic slave trade during the 18th century. The church said it committed about $121 million to address its role in the slave trade.
Lloyd's of London, which provided insurance to slave traders for their human cargo, also apologized.
"In particular, we are sorry for the role played by the Lloyd's market in the eighteenth and nineteenth Century slave trade. This was an appalling and shameful period of British history, as well as our own, and we condemn the indefensible wrongdoing that occurred during this period," the company's statement reads.
Lloyd's apologized amid widespread anti-racism protests in the United Kingdom over the murder of George Floyd by former Minneapolis policeman Derek Chauvin. The company announced several initiatives to make amends, including funding organizations promoting opportunities and inclusion for Black and ethnic minority groups.