Killer Mike Is Making His 9-Year-Old Rap Nerd Self Proud With 'MICHAEL'
The Atlanta native discusses his new LP and the necessary growth he experienced over the last decade to create it.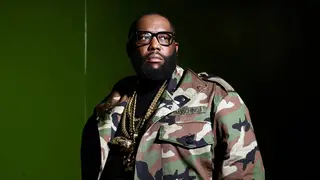 In today's world of music, it's rare for hip-hop artists – even the biggest ones – to put more than a few years between solo album releases. But for Killer Mike, it took him over a decade to put the right words, sounds and emotions together for his new Southern-soaked and profound album Michael.
It was during that 10 years and some change that the Atlanta rapper formed his duo Run The Jewels with El-P, which helped him understand how to navigate higher levels of success – going from touring at small venues following the release of his 2012 album R.A.P. Music to festival stages around the world. Mike also plunged much of his time into his various businesses and other endeavors, however, that long-awaited follow-up was never out of his mind completely.
As Mike explains, he needed to go through a new world of experiences to be able to execute what he released on Friday (June 16). Tapping No I.D. to executive produce the effort, which took over two years to create, he explains that the "nine-year-old rap nerd" inside of him needed to use that attention to detail, while also letting some of the craft masters of hip-hop make it sound pretty. And that it does.
During a recent interview with BET, Killer Mike details creating his legal first name-titled LP, why he decided No I.D. was the person to trust with the sonics of it, Getting Andre 3000 and Future on the single "Scientists & Engineers," the role of the church in his life and music and much more. Read below.
BET: R.A.P. Music was your last solo album, and coincidentally I met you at a show in 2012 in Columbus, Ohio when you were touring on it…
Killer Mike: With DJ Trackstar…
Mike: The crowds are bigger now…
BET: They sure are [laughs]. Now after a decade you're back with Michael. What made you want to drop another solo album after all these years?
Mike: It means a lot – not for vanity or ego sake. I have been a part of arguably the best rap group going today in Run The Jewels. We tour like a rock band, we have an amazing festival run. There were some things that I needed to say, and the Run The Jewels world is like the uncanny X-Men, and I would identify with Wolverine and there's a Logan story that expands the universe. Killer Mike is the invention of this nine year old kid who wanted to be a badass emcee. And he built this character that became Killer Mike that just takes no s**t on the microphone. At its Crux though, he's just a nine-year-old kid with a hell of an imagination who grew up at a hell of a time with amazing grandparents and parents that raised him in this neighborhood in Atlanta. I wanted people just to see me as the whole human being. I wanted to tell that story.
BET: How do you feel you've grown musically, spiritually, and mentally between then and now?
Mike: Well, I'll tell you this: over the last 10 years you're around people you learn you earn. I learned discipline. I earned the courage to say I can do this by myself. I can make my rap partner proud and I can expand the universe and Run The Jewels by, again, me as Wolverine given my Logan story, I needed to be in Run The Jewels because I needed to burn the b******t off. I needed to understand how to better make records. I needed to find my place. Once found, once money gets made, once a place in history is secured, you have to find a new challenge. I'm not patient enough to learn how to play an instrument so what's the challenge? The challenge is to tell the story of Michael. Me and Cuz Lightyear, we worked a job and after about a year we had what we thought was a phenomenal mixtape, called No I.D., said, I've always thought about you executive producing for a project, went out there and took the next year, year and a half fine tuning it, and at the end of two and a half years we have absolutely the most impeccable record that's gonna drop this year. And to me it starts the next 10 years of what Killer Mike is.
BET: And what made No I.D. that obvious choice for you to have him executive produce the album?
Mike: I'm lucky enough to call him a friend. He's been a friend of almost 20 years now. He's No I.D., he's Dion, he's a legend. At the end of the day, man, I'm just a nine year old rap nerd. I'm the kid that got Common's first record, I'm the kid that knew he mentored Kanye [West]... Working with No I.D. That's like learning how to paint from Artie Burns. That's like sitting next to Basquiat and saying, Man, how do you do this? So I've considered our friendship a blessing. He had made "Ready Set Go" years ago with me and T.I. years ago, amazing record. But I knew that I had something to learn and I knew sitting right next to him, I was going to learn it. And what we've learned and sat down and done is how to make a Killer Mike record. Not Killer Mike in the sense of the Killer Mike that the kid created to be a rap badass, but how to make a record is vulnerable, how to make a record that's mature, how to make a record that takes inspiration from samples and turns those samples into deeper, more cutting music for the day. I just appreciate the tutelage that I was given by him. And don't expect this to be the last time we've worked – just the first.
BET: I've got to talk to you about "Scientists & Engineers." I think when many people, including me, saw just the artists on it we were very intrigued – as any rap fan would be. Now that it's out, I have to say it's pulled off masterfully. How did that one come together?
Mike: Cuz and I, we took the album out to L.A. for No I.D. to hear. And as you know. I always want [Andre 3000] and Big Boi to approve or like my music, it means a lot to me because they gave me an opportunity to change my life. They believed in me every time they don't, that's fine. It makes me work harder. And sometimes they do. And that's fine, but it doesn't mean they necessarily get on it. But Dre heard it and was inspired and said, "Hey, I want to bring y'all something to see if you like it." That was one of the joints he brought us. So I have that, it was another record we did – it was mostly singing on – he took that one back to do something himself with. But we ended up with "Scientists & Engineers." We invited Future on it – he jumped down, I jumped down here and Eryn Allen Kane came through and went crazy. And then [Andre] hit us a few months after and sent me another record. So we got another record that the world ain't heard that's like 11 minutes long. So it's good to be back in the saddle with the person that I started with.
BET: What were some of the things Andre told you specifically about the record, because he's damn near harder to get a verse from than Jay Z these days?
Mike: It ain't even [what he] just told [me]. He heard the music that we have been doing and he was inspired, and said, "Here, take this and do something with it." It wasn't an ask. I've asked over the course of the decade, and usually he'll come back with, "Man, I love it. I think it's hard. I'm just not there right now in terms of on the rapping stuff." And I'm like, Okay, cool. I got it. But this wasn't an ask. It was just, Hey, listen to my stuff. Give me some pointers if you got it. But instead of getting pointers and approval, I got a verse. And I wasn't gonna waste no verse and waste no time.
BET: I know faith is important to you and your history. And I think what people from regions outside of the south may forget sometimes about Atlanta is how big of an influence the church is on everyone. Even if kids grow up to be artists who rap aggressively, you can almost tell who sang in church all those years before they were anyone of note. And that's something consistent throughout all of the history of southern hip-hop to now…
Mike: The south is full of sinners and saints. If you look at the movie The Color Purple, Shug Avery comes back singing, leading the juke joint to the church, she hugs her father and says, "See daddy sinners have souls too." And this was a coming home moment to me. I've spent the bulk of my life running from what older southerns call an anointment that God has purpose for my life. Even though I don't know what that purpose is, I know I have one. God has me on the journey even though I don't know where I'm going. I know I'm on one and it's toward that purpose. So, I just finally came home. You come home sonically in terms of being distinctly Southern and gospel, came home in terms of eternally as a man, putting down the burdens that I had been carrying so I could pick up my crown and coming home as a rapper and saddling up alone and leaving the security of a group to expand the word of the group. I say this is the origin story to me.
BET: There are also points on this album when you touch on today's political climate, particularly "Talkin Dat S**t." And I don't think it would be a Killer Mike or a Michael Render album if you didn't. In today's landscape, how much do you feel hip-hop is still an influential tool for social change?
Mike: Hip-hop is always going to be an influential tool for social change because it allows young people to self organize themselves – whether that's for the community or commerce, but what does that mean? Within the community, If hip-hop sees a problem on street level that needs addressing, they have the ability to mobilize and get people there. Lil Baby did that with his record that was right after George Floyd. in commerce, Lil Baby also hired and has about 30 people working for him. So as well as turning young people on to different ways to think he has the ability to pay people a check and to help them change their own lives and therefore change the culture in the community. So for me, hip-hop is doing what it's always done by providing an opportunity for the community to organize and involve itself.
BET: You also involve a lot of Southern hip-hop on here, even if it's technically not a feature. Like for example you sample Three 6 Mafia's "Playa Hataz" on "Talkin Dat S**t"...
Mike: Awww yeah, shout out Juvenile, [Bun B], I shout out Tony Draper on there, absolutely…
BET: Yeah. Was that intentional or just part of your fabric and it oozes out of you and it reflects on the record?
Mike: It's absolutely intentional. It was a part of my fabric and it oozes out but it was absolutely intentional to make sure that this record was as cohesive as The Chronic and make sure that this record is as Southern as anything that ever came out of the south. I wanted to make something that's cohesive as The Chronic and as deep cutting as Aquemini or ATLiens, so  mission accomplished. This is the best rap album you're here this year and potentially the best album you'll hear this year. It is an album stoked in Southern church, Southern Black church, Southern worker class church. It is stoked in, to me, figuring out the coming of age of a man and masculinity and the women that love him. It is steep. It is a novel. It is a movie. It is an important piece of art at a time where art it's been said to be disposable.
BET: Yeah, and it's super Atlanta. After I heard it, I thought to myself I haven't heard an album so Atlanta since Trouble's Edgewood…
Mike: Ah man, shouts out to Trouble and Edgewood. Trouble's old manager – God bless the dead in Trouble – White Boy D comes out of my squad Grind Time. So I'm gonna call D and let him know you said that, that's a huge compliment as we miss Trouble and we love the project – the movie and the music. Shout out to [Mike WiLL Made-It] who put that out. Absolutely a dope brother. That's a huge compliment and that's one of my favorites.
BET: Absolutely, mine too. And just wrapping up, is there anything you learned about yourself or your artistry after making Michael?
Mike: What I've learned about myself is that you can always cut deeper. The album was done before we recorded "Motherless" and No I.D. pushed me to challenge myself to face my greatest fears. And my greatest fear is that my grandmother and mother are gone – and I had to face that. That was the first time I said that they were dead. So for me, just push yourself. You don't have to push yourself another foot. Push yourself another inch, but just push yourself.
Listen to Killer Mike's new album Michael below.