Gabourey Sidibe Opens Up About Her Wedding Plans: 'It Will Be A Nice Mix Of African And Jewish Touches'
The actress doesn't want a "traditional wedding."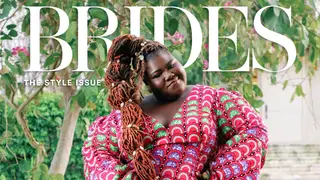 Gabourey Sidibe is opening up about her wedding plans! While chatting with Brides, the actress answered some of fans' biggest questions about the ceremony, including when she plans to tie the knot with her fiancé, Brandon Frankel. Keep scrolling to get the deets!
According to the bride-to-be, wedding bells will be ringing in Spring 2023. While she has yet to reveal the official date, Sidibe did share she has no intention of having a "traditional wedding."
"It cannot be a traditional wedding," she told the magazine. "Really, it can't be. I don't want anything done the 'traditional' way. Our relationship is very much on our terms and I want it to be fun, like a true party."
Sidibe went on to reveal that she has no intent to have bridesmaids or a bachelorette party. Instead, expect an event filled with good vibes and lots of loving energy. "It will be a nice mix of African and Jewish touches," she shared about the celebration that will intertwine their cultures—Senegalese, American, and Jewish. "I want his background to absolutely be there because this is a partnership."
When it comes to her wedding dress, Sidibe wants to go all out with bold colors and unexpected silhouettes.
"I'm super against tradition," Sidibe explained. "I definitely don't need a white dress. My favorite look [from the shoot] was the pink African print. Honestly, whatever I wear on the wedding day will probably be African print. It might have a little white, so it looks like a wedding dress, but it's definitely going to be colorful."
She added, "I've been pulling a lot of things on my Pinterest board to share with my stylist, but my biggest muse has been Danielle Brooks. She had two beautiful dresses—one created by Christian Siriano, who I've also worn before. When the time comes, I am definitely going to hit him up to create a custom look, maybe even African print."
As for wedding planning, the lovebirds want to be very hands-on and are reportedly eyeing a private residence that will allow their guests the ability to spend the entire weekend. A view of the water is another must-have for the couple, who wants to get married during the "Golden Hour."
"We like to outsource, but we're both very involved in everything we do," Frankel shared. "We're creative people and we're both pretty good at executing, so we'll have someone [helping], but we'll definitely be super involved."
We are sure the ceremony will be spectacular! We honestly cannot wait to see photos from the intimate wedding ceremony.
FYI: The lovebirds met on the exclusive, members-only dating app Raya. Sidibe later announced her engagement to Frankel in November 2020 with a heartfelt Instagram post.