'And They're Off!' The Kentucky 2023 Election is a Derby All its Own
Kentucky's upcoming election could result in some historic firsts.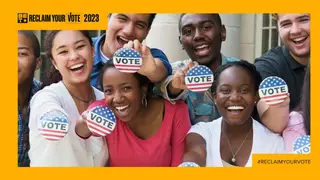 Bring up Kentucky to many Americans, and the first thing that comes to mind is the Kentucky Derby…and all the church hats on steroids that accompany the Triple Crown horse race.
For actual residents of the Bluegrass State, there's one man on everyone's mind this election year: Senate Minority Leader Mitch McConnell.
His presence can be felt throughout the state as it prepares for the 2023 elections – from the governor's race between incumbent Democrat Gov. Andy Beshear and McConnell protégé and current Attorney General Daniel Cameron to the race between Democrat Col. Pamela Stevenson and Republican Russell Coleman for Cameron's replacement.
Beshear, whose father Steven also served as Kentucky's governor, is one of few Democrats currently leading a Southern state, though he heads a state that gave former President Donald Trump its electoral votes in the 2020 presidential election. Cameron, who could become the first Black person to serve as governor, gained national attention when he decided not to prosecute the police officers that killed Breonna Taylor in her home while serving a no-knock warrant.
Stevenson is a member of Kentucky's House of Representatives. A native of Louisville, she spent 27 years in the Air Force and served on the Judiciary Committee in the Kentucky House. She would be the state's first Black attorney general.
Coleman served as a U.S. attorney for Kentucky's Western District during the Trump Administration. Before that, he served as a volunteer assistant commonwealth's attorney in Kentucky's Oldham County and as a senior advisor and legal counsel for McConnell.
As in many other southern states, the impact of the U.S. Supreme Court's decision on abortion rights is also a hot topic in the governor's race. Under Kentucky's law, a woman can terminate a pregnancy only if death or debilitating injury is involved. There are no exceptions for victims or rape or incest, and there is no bill making its way through the legislature that would change that.
An ad directed at Cameron featuring a young woman who was raped by her stepfather when she was 12 made him reconsider his stance: He said that he would consider, but not necessarily sign, a bill that would add rape and incest to the list of exceptions.
For the inside perspective of what issues Kentuckians are most concerned about ahead of the election, I reached out to my cousin Margaret Nichols, who lives and works in Paris, a small town in Northern Kentucky's Bourbon County, about 30 minutes away from Lexington.
Nichols said her neighbors were concerned about the economy, especially since Paris has a significant percentage of low-income residents.
"I'm not 100 percent pleased with Beshear," she said. "But he has brought new jobs to Kentucky and is trying to raise the teacher's salaries. Based on what I'm hearing from Blacks and poor whites, they don't want Cameron to win because he was close to [former Gov. Matt Blevin], who wanted to take money from the public schools and give it to the private schools."
Quincy Robinson, a voter engagement consultant for Kentuckians for the Commonwealth, said the reactions he's gotten to the election depends on the level of optimism of the person with whom he's speaking.
"From what I've seen, a lot of people are enthusiastic about voting and really know the issues," he said. "But there has also been some apathy. I was speaking to an elderly man when I was going door-to-door and he said he wasn't going to vote because nothing changes."
Thanks to legislation passed in 2022, there are now four ways for Kentuckians to vote: They can hit the ballot box in person on Nov. 7 or during the three days of early voting, from Nov. 2 to Nov. 4. The board of elections in each county will determine voting hours.
There are also six days of excused in-person voting from Oct. 25 to Oct. 27 and Oct. 30 to Nov. 1. Voters must have a qualifying excuse, such as military service, to take advantage. Finally, Kentuckians can vote via mail-in ballot. Again, they must have a qualifying excuse and the ballot must be received by 6 p.m. on Election Day for it to count. All voting methods require a photo ID.
The deadline to register to vote in Kentucky is Oct. 10. For more information, go to the League of Women Voters of Kentucky's website: https://www.lwvky.org/2023-ky-general-election.