Puerto Rico Remains Without Power After Hurricane Fiona Ravishes Island
The storm has also made landfall in the Dominican Republic.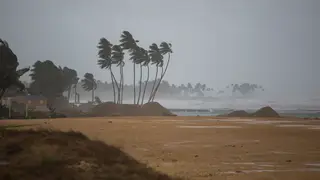 Hurricane Fiona is hitting Puerto and the Dominican Republic hard as it's nearly wiping out the island's power and causing major flooding.
CNN reports that Fiona made landfall Monday morning (September 19) in the DR after crossing onto land a day earlier in southwestern Puerto Rico, which remains almost entirely under flash flood or flood warnings.
One area north of the city of Ponce reported that over two feet of rain fell within the last 24 hours. In southern Puerto Rico, four to six inches of rain or more is expected for fall early this week.
"These rainfall amounts will continue to produce life-threatening and catastrophic flooding along with mudslides and landslides across Puerto Rico," the Miami-based National Hurricane Center said, according to the news network.
At least one death has been reported in Basse-Terre, a heavily-damaged city and capital of the French territory of Guadeloupe. The National Hurricane Center predicts that by Wednesday, Fiona could become a major hurricane with winds reaching 111 mph, making it the first major hurricane to form in the Atlantic Ocean this year.
PowerOutage.us reveals that more than 1.4 million Puerto Rico power customers have lost electricity. By early Monday, the entire island was in the dark.
The main power utility in Puerto Rico noted on Sunday that it could be days before power is restored as daily high temperatures are forecast to reach the mid-80s and 90s for this week.