Robyn Dixon And Gizelle Bryant Fight Back Against Eminem's Trademark Opposition
The Detroit rapper claims his brand will be "damaged" if the reality stars are issued the 'Reasonable Shady' trademark.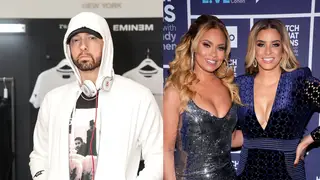 Real Housewives of Potomac stars Robyn Dixon and Gizelle Bryant are fighting Eminem's trademark opposition.
Earlier this month, the rapper filed an opposition against Dixon and Bryant's trademark application for Reasonable Shady, which is the name of their podcast. According to legal documents obtained by Page Six, the Detroit rapper says his brand will be "damaged" if the reality stars are issued the trademark. He also noted that the name could "cause confusion in the minds of consumers," who have known him by the nicknames Slim Shady and Shady since the late 1990s.
Now, Page Six reports Bryant, 52, and Dixon, 43, are requesting for the opposition to be denied. Their attorney, Andrea Evans, told Page Six, "Robyn Dixon and Gizelle Bryant deny any likelihood of confusion between Mather's trademarks and their Reasonably Shady mark. We are prepared to defend any allegations against them regarding their intellectual property."
Eminem, 50, currently owns the trademark for "Shady" for use on his own merchandise.
The legal objection filed by Eminem came weeks after Dixon and Bryant filed a trademark over their podcast's name with the intent of being able to sell products such as water bottles, apparel, and lip gloss.
The Reasonable Shady podcast launched in 2021.