Donald Trump Blasts Beyoncé for Suggestive Super Bowl Show
The real estate mogul comments on Bey's dancing during halftime.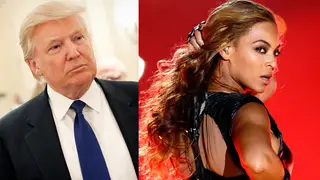 Beyoncé's Super Bowl performance is still causing noise in celebrity circles. This time, Donald Trump is weighing into the critiques surrounding Bey's half-time stage show.
Calling into the Howard Stern Show to discuss a variety of topics, Trump got into dialogue about lip-syncing and was led into the issue of Beyoncé. The real estate mogul was more disturbed by the pop icon's suggestive dancing.
"When Beyoncé was thrusting her hips forward in a very suggestive manner," Trump commented, "if someone else would have done that it would have been a national scandal. I thought it was ridiculous… I thought it was not appropriate.…"
But Trump also noticed that what he perceived as scandalous wasn't by most viewers and the rest of country. "There's been no mention of it," he concluded. "So, obviously, it must not have been so bad. She gets a pass."
While Beyoncé's show didn't cause the uproar of Janet Jackson's breast-gate, her performance wasn't flawless enough to escape the media and Web brouhaha about everything from her Destiny's Child reunion to rumors her electricity use caused the infamous blackout.

BET.com is your #1 source for Black celebrity news, photos, exclusive videos and all the latest in the world of hip hop and R&B music.
(Photos from left: Edward Linsmier/Getty Images,  Ezra Shaw/Getty Images)