Federal Judge Blocks President Biden's Student Loan Debt Forgiveness Plan
The administration has appealed the ruling in a lawsuit filed by a conservative advocacy group.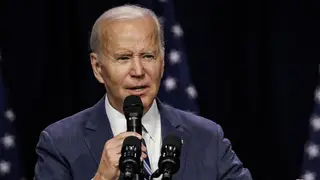 President Joe Biden's student loan forgiveness program has encountered another roadblock.
U.S. District Judge Mark T. Pittman ruled on Thursday (Nov. 10) that the administration lacks the authority to wipe out student loan debt, siding with a conservative advocacy group that sued to halt the plan.
A 2003 statute, known as the HEROES Act, underpins the administration's legal defense of the policy, USA Today reported. That law authorizes student debt forgiveness during national emergencies like the pandemic in this case.
But the Donald Trump-appointed judge rejected that argument.
"In this case, the HEROES Act – a law to provide loan assistance to military personnel defending our nation – does not provide the executive branch clear congressional authorization to create a $400 billion student loan forgiveness program," Pittman wrote, according to USA Today.
"The Program is thus an unconstitutional exercise of Congress's legislative power and must be vacated," he continued.
The HEROES Act was aimed at providing help to military members at a time when U.S. forces were fighting wars in Afghanistan and Iraq, according to The Associated Press. It authorizes the Education secretary to waive student financial aid programs rules in times of war or national emergency.
"The President and this Administration are determined to help working- and middle-class Americans get back on their feet, while our opponents – backed by extreme Republican special interests – sued to block millions of Americans from getting much-needed relief," Jean-Pierre stated.
"We will never stop fighting for hard-working Americans most in need – no matter how many roadblocks our opponents and special interests try to put in our way," she added.
The Job Creators Network Foundation sued in October on behalf of two borrowers, The Washington Post reported. One of them didn't qualify for the full $20,000 in debt relief and the other was ineligible to apply. The lawsuit argued that the policy violated federal procedures by denying borrowers the opportunity to provide public comment before unveiling the program.
"This attempted illegal student loan bailout would have done nothing to address the root cause of unaffordable tuition: greedy and bloated colleges that raise tuition far more than inflation year after year while sitting on $700 billion in endowments," Elaine Parker, president of Job Creators Network Foundation said.
At least 26 million people have applied for one-time student loan debt relief since the administration announced the program in August, according to USA Today. The program would cancel $10,000 in student loan debt for individuals who earn less than $125,000 or households making below $250,000 in income.