Another Unmarked Black Cemetery Discovered In Florida
These cases raise questions about who's accountable for correcting past wrongs.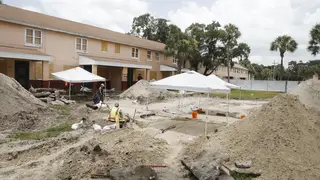 Archaeologists believe several hundred people are buried in an unmarked African American cemetery at a site that's now an office building and parking lot in Clearwater, Fla., NPR reports.
This marks at least the fourth abandoned Black cemetery from the state's segregation era that was rediscovered in recent years.
According to NPR, a group of former Clearwater Heights residents, a Black neighborhood that was swept away in an urban renewal project, wanted to know what happened to the old St. Matthews cemetery. They were told that it closed in the mid-1950 when the land was sold to a developer. Many of the surviving residents, now in their 70s and older, were also told that the developer moved the graves to another site. But excavation of the site shows that didn't happen.
Antoinette Jackson, chair of the anthropology department at the University of South Florida, told NPR that a post-WW2 building boom in the area led city officials to relocate segregated Black communities.
In the mid-1950s, records indicated that the Clearwater City Council used various tactics, including property assessments, that targeted the city's African American community, Jeff Moates of the Florida Public Archaeology Network, told NPR.
This raises questions about accountability for correcting past wrongs. City Councilman Mark Bunker told NPR that "the city does have some responsibility in dealing with this." But the council is divided on that issue. Another unnamed council member said the city shouldn't be held culpable for something done decades ago.
This is far from an isolated case. In nearby Tampa, at least two forgotten African American cemeteries were built over, including some graves under the parking lot at Tropicana Field, the baseball stadium of the Tampa Bay Rays. Scores of other graves were rediscovered at a public housing complex site.