NFL Player Alexander Mattison Shares Racist Messages Received After Game Loss
The Minnesota Vikings running back shared screenshots and later deleted the posts.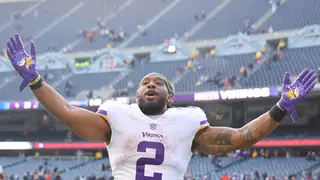 Minnesota Vikings' running back Alexander Mattison says he received more than 60 "disgustingly disrespectful messages" – including many that were racially charged – following his team's loss on Thursday night.
"Y'all can come at me all you want about fantasy and 'you suck' blah blah blah," Mattison wrote on Instagram, per CNN. "I really could care less. But this sh*t is unacceptable. … Really reflect on WTF you say and how it could affect someone. Under the helmet, I am a human.. a father.. a son. This is sick."
Mattison later deleted the screenshots.
The NFL responded to the messages with a statement on X (formerly Twitter) that "strongly condemns" the racist behavior.
The Vikings also released a strongly worded statement: "We are sickened by the hatred and racial slurs directed toward Alexander Mattison following last night's game."
"There simply is no room for racist words or actions in sports or society," the statement continues. "The Vikings will continue to fight to eliminate hate, to educate and to foster a diverse, equitable, and inclusive community that respects and values our unique backgrounds. We stand with Alexander and all players who, unfortunately, experience this type of ignorant and prejudicial behavior, and we ask our fans to continue to fight to eliminate racism."
Mattison wrote in a post on his Instagram that players should not be "dehumanized, nor should our identities or ethnicities be attacked by our play on the field. No athlete deserves to be harassed, disrespected and threatened."
"Racism at its core is centered in fear and ignorance--and they only way we can work against it is to address it head on." He noted, "56% of the NFL is comprised of Black men, so I know I am not the only one who has had this negative experience. We deserve better from the fans."