Da Brat and Wife, Jesseca 'Judy' Harris-Dupart Share Adorable First Photos of Son True Legend
'God Saw Fit for Me to Have Him' the rap legend said.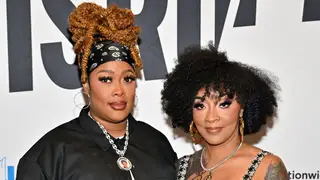 Rap legend Da Brat and her wife Jesseca 'Judy' Harris-Dupart shared the first photos of their newborn son with PEOPLE this week for the magazine's "My Extraordinary Family" feature due on newsstands on Friday, August 18.
"Look, this came out of my stomach," Brat says in a video, pointing to the adorable, tiny newborn, sleeping soundly in the arms of her wife at their home in the Atlanta suburb of Alpharetta. "I cry every day. I just look at him and boo-hoo, because I'm so grateful."
The 49-year-old rap star also detailed her labor experience, including the songs she wanted to hear as she prepared for a c-section.
"I asked her to play Biggie [Smalls], but that wasn't helping," Brat shared, "So she played our love playlist. I was able to relax and not think."
Baby True was conceived via IVF with the help of a sperm donor. Harris and her wife had experienced a pregnancy loss before True was born. "I think God plans out our journey," she says. "I'm very happy He saw fit for me to have him."
"I'm 49, I'm high-risk, I have high blood pressure. So many women so much younger than me want kids and can't have them, and I had a successful pregnancy," Brat said, tearfully. "It's just an honor. He's such a blessing."
Da Brat and Jessica have been married since February 22, 2022. "I was stuck in the closet for so many years, I thought I would never come out," Brat said that her relationship with Jesseca, which began in 2017, inspired her to be honest about her sexuality, "but I met somebody that gave me the courage to live in my own truth. Now I'm happily married."
She also shared that their son has brought the couple closer together. "He made us closer," says Da Brat, "We always change his diaper together."
Nearly 30 years since her debut, Da Brat reflects that her life is vastly different than she once imagined it. "Who would ever think this? Da Brat-a-tat-tat from 1994!" she says, hinting at her tough hip-hop persona. "I'm with a beautiful, successful woman who completes me and inspires me to be better. I'm elated to be a mother. I never thought I would be, and I wouldn't change it for the world. I never need another thing in life."