It's a Boy! Da Brat and Wife Jesseca Dupart Welcome A Son
The rapper and the beauty entrepreneur announced that the baby boy was born in Atlanta on July 6th.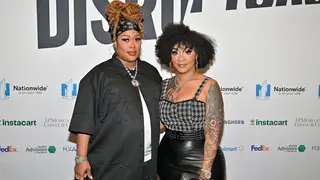 The legendary rap star told PEOPLE, "I can't BELIEVE he came out of me!" she added, "Feels like a dream. He's PERFECT in every way." As for how mom is feeling: "Very appreciative for such a blessing of our bundle of joy," she said. "This journey has been more amazing than we could've ever imagined."
When asked about his name, the 49-year-old rap star added, "His name had been True Legend Harris-Dupart but now that we've met him we are tempted to name him PERFECT." She did add that she and Jesseca sticking with True.
The couple were married on 2/22/22 and the rapper later told PEOPLE that she wanted "a little me" with Harris-Dupart. "Something special from the both of us that we can share and raise and love unconditionally."
Harris-Dupart said that the two went back and forth about who would carry the bundle of joy. Harris-Dupart, who is already a mother of three, added. "We had a little tug-o-war in the beginning… but I felt like she should have the experience. She is so nurturing."
The couple, who star in WeTV's Brat Loves Judy, used IVF to conceive with an egg from Harris-Dupart and sperm from an anonymous donor. The baby comes after a heartbreaking miscarriage.
"I had never been so excited about something that I didn't even know I wanted," Da Brat said. "I fell in love with the idea and then it was all snatched away from me. Luckily, we still had quite a few of her eggs left."
In a recent video where Jesseca bought Brat a new Tesla as a "push present"  Da Brat gushed with love for Jesseca, saying, "Like all this is crazy. People only dream of s–t like this. And I am so blessed to be able to experience it."
She continued, "I'm so blessed to have my wife because of her heart. She loves me so much."
"It has nothing to do with the gifts or the money, or the lifestyle we live in between. The conversations we have. The ups and the downs. How we get through s–t. The balance that she and I have. We get into it; we're human. But we come out okay all the time. And It's just a blessing."
"Thank you, God. You can't ask for nothing better."