BET Awards 2022: Mary J. Blige Crowned The BETHer Winner
Target celebrates the "Good Morning Gorgeous" singer.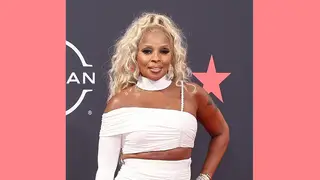 If someone mentions the name "Mary" with no last name, they're likely either talking about the Virgin Mary or Mary J. Blige.
It's a testament to all that she's accomplished as she enters decade four of Black pop culture royalty – and that includes still receiving awards for music, a generation after she became a recording artist.
"Martin" co-stars Tisha Campbell and Carl Payne welcomed the Queen of Hip-Hop Soul to the stage during Sunday's telecast of the 2022 BET Awards, announcing her as winner of Target's BETHer Award for "Good Morning Gorgeous," the title track from her 2022 album.
The track, co-written by H.E.R. and Lucky Daye, made waves when the accompanying video, featuring a sultry, lingerie-clad Blige, dropped in December. She beat out six other artists, including Jazmine Sullivan and Summer Walker, for the award.
"It's a blessing to still be doing what I love and to be in this category with all these amazing women who write songs that empower," Blige said in her acceptance speech.
Boogie-Down's Finest
Mary Jane Blige was born in the Bronx in 1971, the second of four children. As a young girl, she moved to Atlanta, where her gospel roots sprouted while singing at a Pentecostal church.
Fame and success started by way of family-assisted serendipity: Blige recorded a cover of "Caught Up in the Rapture" in a mall recording booth in 1988, prompting her mother Cora Blige's boyfriend to play it for an A&R at Uptown Records. The tape made it to Uptown CEO Andre Harrell, who signed her to the label as a backup vocalist.
It would be another few years of work between Blige and producer Sean Combs, then known as "Puffy," before the release of her first album, 1992's What's the 411?  All five singles from the album – "You Remind Me," "Real Love," "Reminisce," the remake of Rufus' "Sweet Thing" and "Love No Limit" – are all considered classics and can still be heard at any respectable karaoke session decades later.
What's the 411? immediately cemented her as the burgeoning queen of hip-hop-tinged R&B and has gone triple platinum since its release. "Real Love" was employed for a series of Target holiday commercials in 2020.
Blige didn't write any of the songs on her first album, but she penned most of her second album, 1994's My Life. Her songs contained lyrics that dealt with personal issues Blige endured during the creation of the album: clinical depression, her personal struggles with alcohol and drug abuse; and an abusive relationship as well as other aspects of her love life (including her 15-year marriage to Kendu Isaacs) has served as some of the most fertile ground for her lyrics.
My Life dominated the charts, went triple platinum and is considered by many to be Blige's best album, thanks in large part to the Rose Royce cover "I'm Goin' Down" and "You Bring Me Joy."
A Versatile Queen
Blige's career over the last three decades has been a master class of maintaining appeal with consistently dope music and pivoting to the next creative pursuit. She's among the most awarded and nominated artists in her craft, having won Grammy Awards, including one for "Best Rap Performance by a Duo or Group" for "I'll Be There for You/You're All I Need to Get By" with Method Man and Best R&B Song for "Be Without You," which was all but inescapable in 2006.
"Normally when you win that award it means you're about to retire or be done," Blige said during Sunday's show. "Here I am by the grace of God still winning, still nominated."
Blige made a relatively early career transition to film and television, first showing up on the small screen on "The Jamie Foxx Show" in 1998 as the daughter of a preacher (Ronald Isley) looking to break out of her father's shadow and perform secular music. Six years later, she hit the stage for the off-Broadway play The Exonerated, portraying a woman who spent two decades in prison for a crime she didn't commit.
Late in the first decade of the 2000s, Blige went on a television streak that includes a sting on "Ghost Whisperer," several guest appearances as herself on HBOs "Entourage" and "America's Next Top Model" and a role in Tyler Perry's I Can Do Bad All By Myself.
Perhaps her most stunning film role is that of Florence Jackson in 2017's Mudbound, an adaptation of the 2008 book of the same name, in which she's near unrecognizable as a put-upon mother and wife in the post-World War II Mississippi Delta. Blige netted her first Oscar nomination for the role.
Blige has a recurring role on the "Scream: Resurrection" television adaptation of the horror film series, and everyone is waiting to see her once again assume the role of crime matriarch Monet Tejada in the upcoming third season of "Power Book II: Ghost."
Blige's list of accolades and accomplishments runs deep, but perhaps the most important is how she subverted negative Black woman tropes in her music and identity, and always paved her own lane in an entertainment industry that doesn't normally allow for anything even close to her longevity.
"People always ask me if I ever get used to winning awards and being nominated," she said. "I always say 'no' because no matter how hard you work, and even if you think you deserve it, you just don't know how it's gonna go sometimes. So, this is always an unexpected gift and blessing."