Poll: 75 Percent Of Black Americans Fear Racial Attacks After Buffalo Massacre
Hope for positive change has declined since the more optimistic outlook after George Floyd's murder.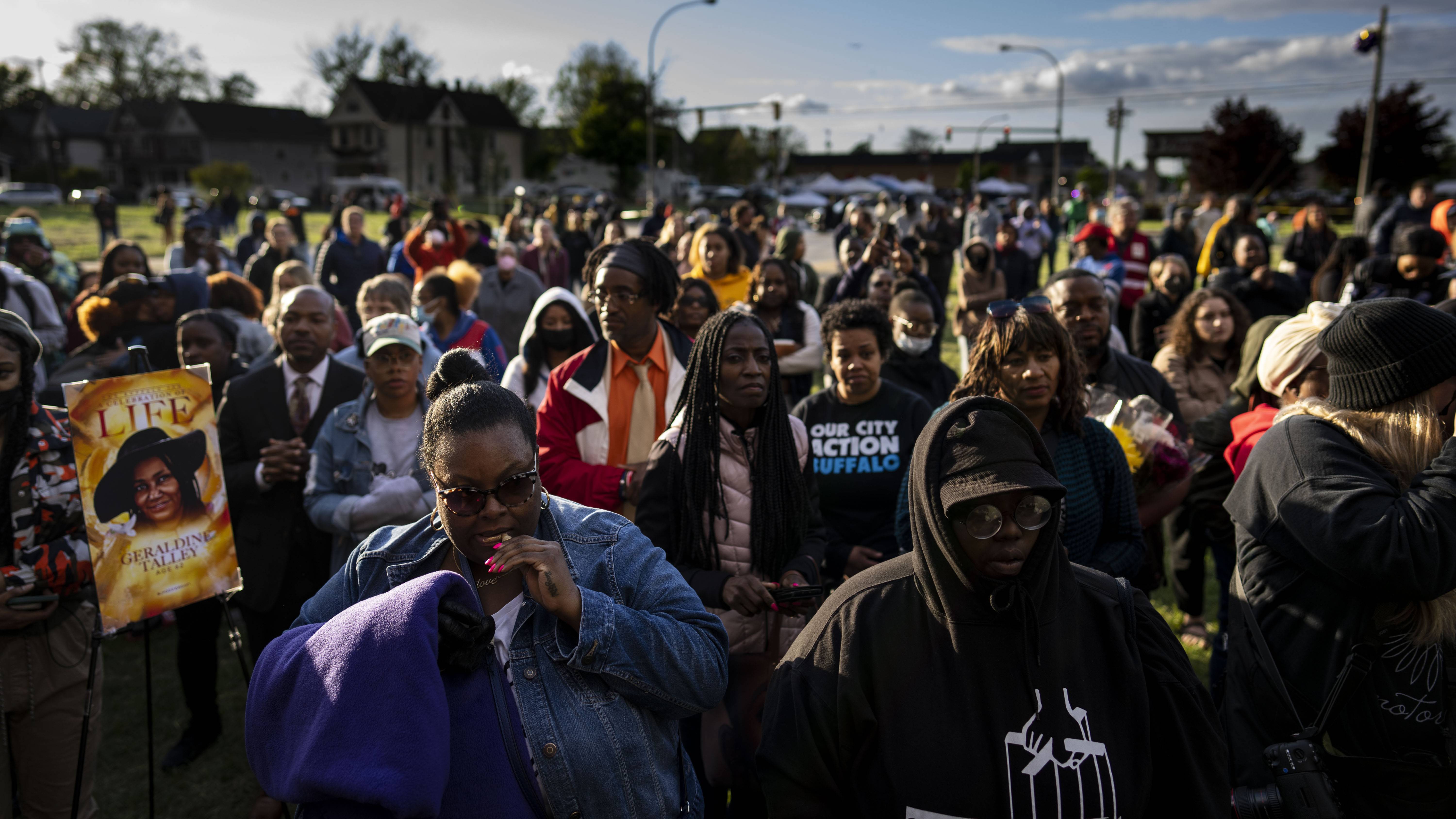 After the shooting, only 10 percent of those polled expect the racism problem to improve during their lifetime, a much lower figure compared to the more optimistic outlook after George Floyd's murder in 2020.
According to the Buffalo Police Department, Payton Gendron, 18, entered the Tops Friendly Markets store on May 14 with a military-style assault rifle and opened fire, murdering 10 Black people. Investigators believe it was a racially motivated attack, the Associated Press reports.
Gendron allegedly espoused the "Great Replacement" theory, which is the false belief that a secret political group is working to replace white Americans with non-white people through interracial marriage, immigration, and inevitable violence.
The poll found that only 8 percent of Black Americans were "surprised" by the alleged hate crime. Part of the reason is that 70 percent of Black people believe at least half of white Americans hold white supremacist beliefs.
Unsurprisingly, 75 percent of Blacks say that white supremacists are a "major threat" to them, which is becoming a bigger problem (66 percent believe) than it was just five years ago.
Black Americans also feel vulnerable to police brutality because of their race. The poll found that 80 percent of Blacks believe their local police are racially biased. That figure grows to 88 percent when asked about police nationally.
There was optimism that things would improve during the widespread protests from the video showing former Minneapolis police officer Derek Chauvin pressing his knee on Floyd's neck, while the Black man was handcuffed. A jury convicted Chauvin on murder charges in April 2021.
A June 2020 poll found that 54 percent of Black Americans expected that the incident would lead to improved treatment at the hands of police. Given the epidemic of hate, only 19 percent of Blacks today say police treatment has improved, and 41 percent say it has not improved "at all."
At the same time, 59 percent of Blacks in Jun 2020 believed that Floyd's murder would increase white Americans' concerns about police racism. That figure has declined to 30 percent today.
Access to guns, according to 63 percent of Black Americans, contributes a "great deal" to hate crimes against them. Other contributing factors include "personal family and upbringing" (57 percent); social media (52 percent); "blaming Black people for their problems (47 percent); political leaders (46 percent); and not enough teaching of tolerance in schools (45 percent).