Nick Cannon and Brittany Bell Celebrate Birth Of Daughter Powerful Queen
She is the couple's second child.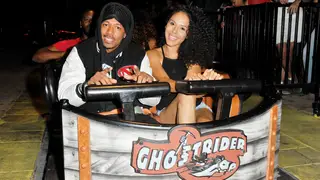 Nick Cannon and partner Brittany Bell announced the birth of their baby girl over the holidays.
Bell posted the news Saturday (Dec. 26) in an Instagram post, sharing an image of their daughter and her royal one-of-a-kind name: Powerful Queen.
"The best gift ever we have been surprised with… A GIRL!!!! Powerful Queen Cannon came this week perfect timing for Christmas," she wrote. "So much more to share," she continued. "All I can say is that Nick was my rock through the most intense yet empowering natural water birth. It was nothing but POWERFUL."
Powerful Queen is the couple's second child. Cannon and Bell's first child, their son Golden "Sagon" Cannon, was born in February, 2017. 
After posting about the announcement, Bell also shared pictures of the couple's underwater maternity shoot, featuring the two wearing white garments. 
"I usually would keep these to myself but it was so unique, dreamy, and Powerful that I can't help but share," Bell wrote in the caption. "One day our little girl (I still can't believe I'm saying girl!!) will look at these and know it was for her."
Congratulations to the happy couple!