Nelly Shows Why He's A G.O.A.T. Winning BET's 2021 'I Am Hip Hop' Award
He also performed a medley of his hits after accepting the award.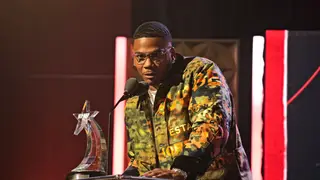 Rapper, entrepreneur, philanthropist, and actor Nelly accepted his first BET Award in 2001 for Best New Artist. Two decades later, the St. Lunatics' frontman is 2021's BET I Am Hip Hop Award. 
Nelly, 46, accepted the prestigious award from friend and legendary producer/songwriter Jermaine Dupri. 
"He literally had us all walking around with a bandaid on our face," Dupri mentioned, thus proving Nelly's major contributions to music, fashion and Black culture in general. 
"With having like three GRAMMYs under his vocal belt and over 35 million records sold," JD said in unison with an applauding crowd and a smile from Nelly. "Nelly has proven that he is definitely hip hop. I think he had to be the first to blend hip hop and Country."
"We don't get a lot of chances to stand on stages," Nelly said in his acceptance speech in regards to  the opportunities (or lack thereof) of people from the Midwest. "This just ain't for me, this for my whole area, my whole city." 
Nelly also spoke about the influence LL Cool J had on him early on in his career, crediting him as a massive force for him to pursue his music in his way. "I started jacking a lot of his s**t from him," he joked. "We talked about that, he's forgiven me."
Before performing a medley of hits, Nelly thanked The St. Lunatics, a group composed of Murphy Lee, City Spud, Ali, Slo' Down, and Kijuan, each of whom played a significant role in Nelly's career. 
"We had a dream and we built that dream from the ground up. I love each and every one of them… I love ya'll to death."
Nelly performed a medley of hits including "E.I., "Country Grammar," "Air Force Ones," "Where The Party At," "Grillz," Ride Wit Me," "Dilemma," Flap Your Wings" and last but never least, "Hot In Herre."