Serena Williams' Proud Husband Tweets How Walking Used To Exhaust Her, And Now She's A Semifinalist
Alexis Ohanian said the tennis star was immobile for months after giving birth.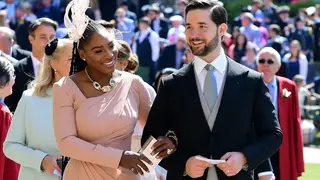 For longtime fans of Serena Williams, her accomplishment of making it to the semifinals of Wimbledon may not come as a surprise. However, the tennis star's husband made sure to remind people about the magnitude of her success considering the complications she faced after giving birth. 
On Tuesday, Williams, who left the game for over a year during her pregnancy, beat Camila Giorgi of Italy 3-6, 6-3, 6-4 in the quarterfinals, locking her place in the semifinals. 
Williams celebrated with a tweet thanking everyone who has supported her throughout this journey and her husband, Alexis Ohanian, quoted the tweet with a message of his own. 
Ohanian is referring to how Williams was unable to walk, let alone play tennis, after the birth of her daughter, Olympia, resulted in severe blood clots. 
"She nearly died and was laid up for a couple of months," he told the Times Ahead. "To have all this happen less than a year ago and to now be back to competing at this level is phenomenal."