Two Black Indiana College Football Players Die In Car Accident
Christian Eubanks and Caleb VanHooser were among three people in total perished in the tragic crash.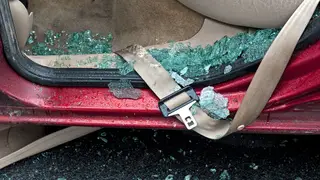 On Monday (August 22), Indiana State University announced that two members of the school's football team perished in a single-vehicle accident on Sunday.
Three people in total reportedly passed away as a part of the tragic crash, including freshmen players Christian Eubanks and Caleb VanHooser and sophomore student Jayden Musili, who was in his first year at ISU.
According to the Indianapolis Star, ISU football players Omarion Dixon and John Moore were also involved in the accident and are out of intensive care but still in serious condition.
Indiana State began its first day of classes on Tuesday with the football team not practicing Monday. The Cyclones' first game is scheduled for September 1 against North Alabama at home.
"It is a terrible day for Indiana State football and a devastating loss for both the Eubanks and the VanHooser families," Indiana state head football coach Curt Mallory said in a statement. "Both young men were quality individuals who were loved and respected by their teammates and this staff. To say they will be missed is an understatement. Our continued prayers and support are with their families, friends, and teammates during this difficult time."
Additionally, ISU athletic director Sherard Clinkscales weighed in on the tragedy. "My heart is broken at the loss of these three souls," he said, according to the Star. "Life is so precious, and it is very difficult to comprehend when tragic events like this happen. They will always be remembered. My heartfelt condolences and prayers go to each of their families."