New Jersey Man Calls Police on Nine Year Old Naturist Killing Lanternflies Claiming the Child "Scares" Him
The Republican former council member's attorney insists his client calling the cops on the tiny Black child is not racial profiling.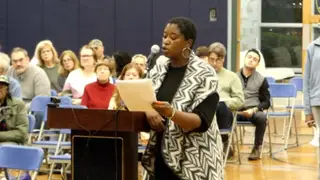 A 9-year-old Black girl had police called on her when she was out trying to kill dangerous spotted lanternflies, an invasive species that kills trees.
Calling the child a "real small woman," Gordon Lawshe warned in a 911 call obtained by The Daily Beast, "There's a little Black woman, walking, spraying stuff on the sidewalks and trees... I don't know what the hell she's doing, scares me though," the Caldwell, N.J. man reported.
That "small woman" who so scared Lawshe was actually 9-year-old Bobbi Wilson, a nature-lover who regularly hunted the pests to protect trees in her neighborhood. The child is shorter than five feet tall.
Bobbi's mom, Monique Joseph, talked about the experience and the negative impact it had on her child at a Caldwell Borough Council meeting. The Daily Beast reported Joseph's comments. She explained that, "Racism, intentional or not, is still racism."
Joseph stressed to borough leaders that, "My neighbor's words put my daughter in harm's way. His words and actions were unconscionable, and the impact of the aftermath of this incident will not be kept secret. My 9-year-old daughter was afraid to go outside her front door the next day. She was afraid that her neighbor that she knows has a reason, unknown to her, to call the police on her."
Lawshe, a Republican and former member of that council, has not agreed to meet with the family who lives across the same street from him. His attorney, Greg Mascera, told The Daily Beast that Joseph is all wrong, and denied that Lawshe racially profiled her child.
"All the cop did was drive by, but the mother's assertion that [her daughter is now] afraid of cops is absurd," he said and likened her comments to "crying wolf," and making "real problems not be taken seriously."
Young Bobbi's dedication to science was even written about in the local outlet called The Progress,  which spotlighted her work attacking lanternflies. In addition, hers is the only Black family on the block, so it's likely that the "scared" neighbor, Lawshe, might even have recognized the child who had been noticed for her efforts.
Caldwell Mayor John Kelley apologized to the family and said he was saddened by the ordeal.