Obama Mourns With Fort Hood Families
President Obama delivers second eulogy at Fort Hood.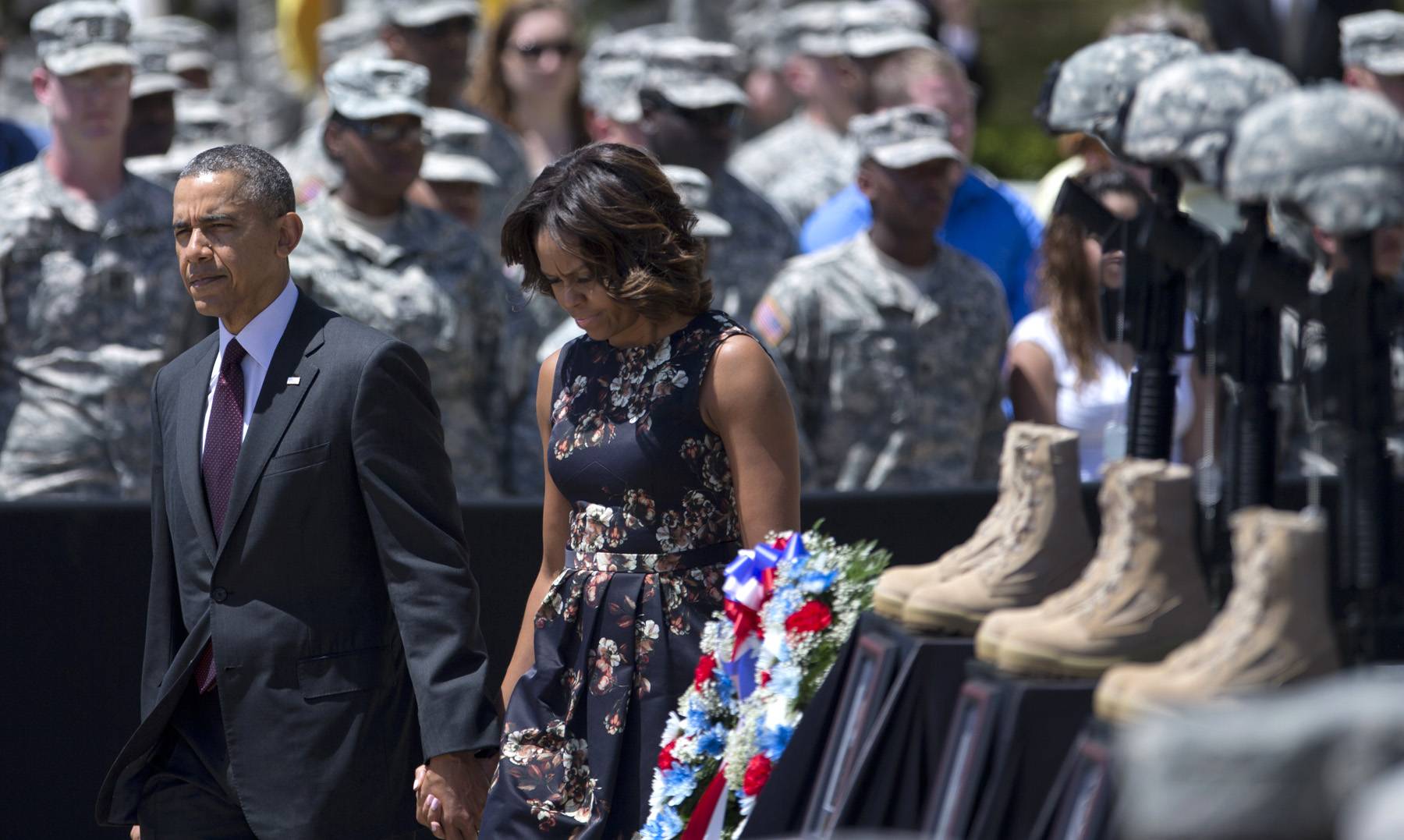 President Obama stepped into a regrettably familiar role Wednesday afternoon when he delivered a eulogy for the soldiers killed last week at Fort Hood. The memorial took place at the same spot on the base where the president, in his first act as comforter-in-chief, mourned with families of victims of another mass shooting in 2009.
"It is love, tested by tragedy, that brings us together again," he said.
This time it was to remember Daniel M. Ferguson, 39, Timothy W. Owens, 37, and Carlos A. Lazaney-Rodriguez, 38, who were killed by gunfire by 32-year-old Army truck driver Ivan Lopez, who then took his own life. In addition, 16 others were wounded. The president and First Lady Michelle Obama met with the victims' families before the service.
"Part of what makes this so painful is that we've been here before. This tragedy tears a wound still raw from five years ago. Once more soldiers who survived foreign war zones were struck down here at home where they're supposed to be safe," said a visibly saddened Obama. "We still do not yet know exactly why, but we do know this: we must honor their lives, not in word or talk, but in deed and in truth."
The president renewed a commitment to do more to ensure that people suffering from mental health issues receive the help that they need and to "keep firearms out of the hands of those who are having such deep difficulties."
He called on the nation to honor the four lives lost in this most recent tragedy by doing more to care for both civilians and members of the military living with mental illness.
"Today four American soldiers are gone; four Army families are devastated. As commander-in-chief, I am determined that we will continue our efforts to reach our troops and veterans who are hurting, to deliver to them the care that they need, to make sure we never stigmatize those who have the courage to seek help," Obama said.
He also noted that the soldiers who died and others are part of "our 9/11 generation," who have "borne the burden of our security in more than a decade of war." Many troops will be coming home at the end of this year when the U.S. ends its military engagement in Afghanistan.
"In an era when fewer Americans know someone in uniform, every American must see these men and these women, our 911 generation, for the extraordinary citizens that they are," Obama said.
BET Politics - Your source for the latest news, photos and videos illuminating key issues and personalities in African-American political life, plus commentary from some of our liveliest voices. Click here to subscribe to our newsletter.  
(Photo: AP Photo/Carolyn Kaster)