Looking Back And Breathing In: The 10 Most Important News Events of 2021
The past year moved things past a largely challenging 2020, but also had many challenges of its own to deal with.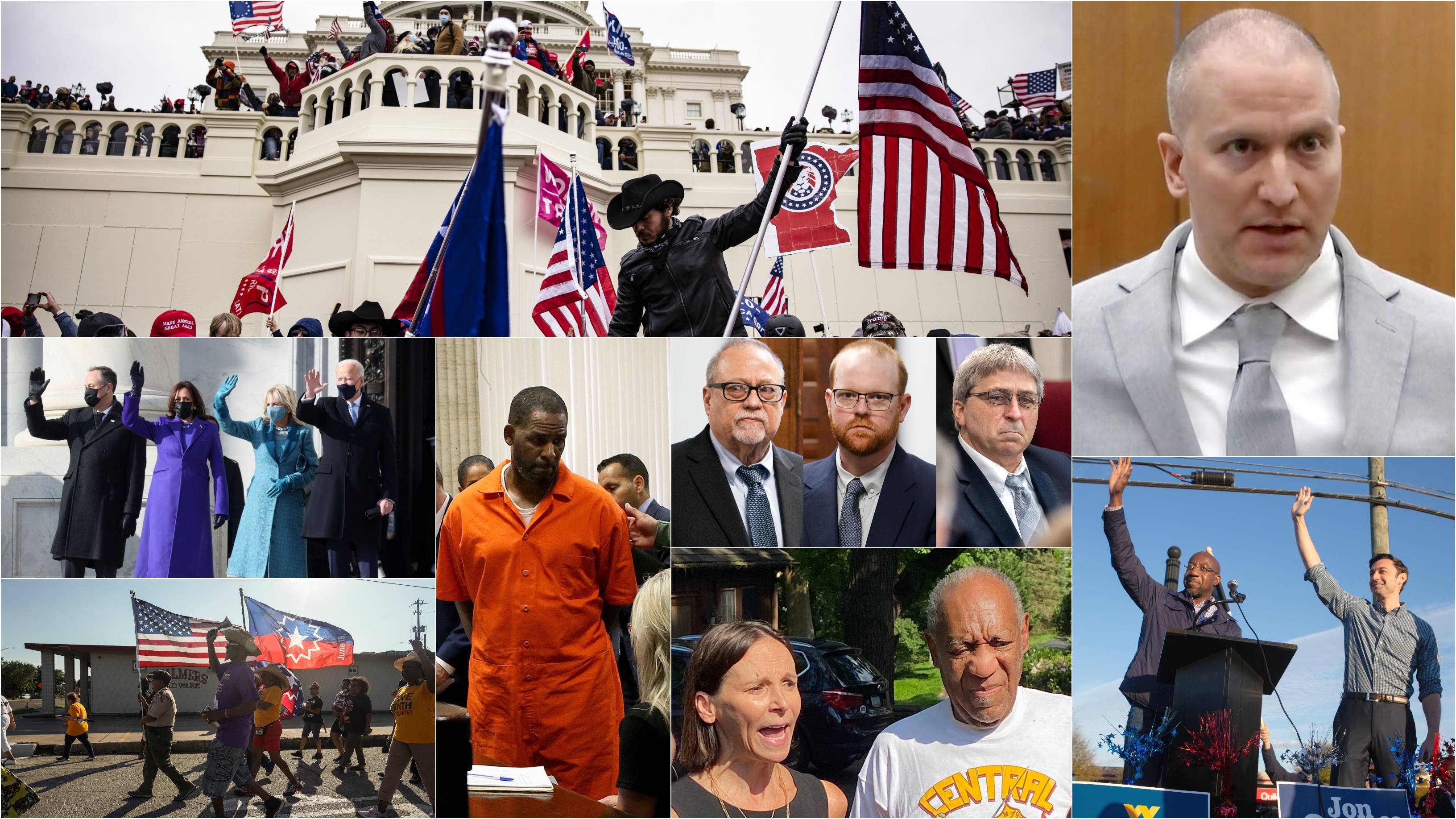 In 2021, we continued to deal with a global pandemic, saw a racial reckoning set off by the May 25, 2020 death of George Floyd, and turned a political corner that is constantly being tested. At the same time, it was a year that seemed in some regards to be a continuation of the prior twelve months, but in others to be quite a different stage.
Many Americans rejoiced over the inauguration of a new president who vowed to undo the racial damage he said was done by the previous occupant of the White House. Elected officials pushing for voting rights and justice gained seats where they'd previously been shunned, but also faced setbacks. Some celebrities went to prison. Others left prison early.

The nation formally recognized the centennial anniversary of a racial massacre, but some of the events were cancelled amid a disagreement over reparations. In other words, it was a year that reflected the chaotic nature of the pandemic.

Although 2021 was filled with critical moments in the news, here are 10 of the most memorable.
January 6, A Surreal Day at the Capitol

In the category of "If those had been Black people, that never could have happened" comes the Jan. 6 insurrection of the U.S. Capitol that left five people dead. It was an unparalleled moment in American history, one that measures with Sept. 11, 2001 in its impact.

As he prepared to exit the White House, Donald Trump, bruised by his reelection loss to Joe Biden, directed his supporters to walk to the Capitol and flex their strength, hundreds of insurrectionists showed up to the seat of Congress, got in the faces of police officers, scaled walls, and ultimately stormed the building, stealing souvenirs like the laptop of House Speaker Nancy Pelosi, D-Calif., posing for selfies and even damaging the property.

What the insurrectionists did not count on was that cell phone technology and social media posts would help identify them and lead to their prosecution. To date, more than 50 people have been sentenced in the incident, 726 charged, and U.S. Capitol Police Officer Eugene Goodman was awarded the Congressional Gold Medal for diverting the insurrectionists away from Congress members.



Turning The Tide In The Senate

All this took place just a day after another piece of history took place.

Georgia, which was a factor in Biden's victory, also came through for Senate Democrats across the nation on Jan. 5 when two challengers won runoff elections and pulled two U.S. Senate seats out from under Republican incumbents, turning control of the Senate over to Democrats.

Raphael Warnock, senior pastor of Ebenezer Baptist Church - once headed by Dr. Martin Luther King Jr. - won in his race against Republican incumbent Kelly Loeffler 52 percent to 49 percent, while former documentary producer Jon Ossoff beat Republican incumbent David Perdue 50.6 percent to 49.4 percent. It was a particularly heartfelt victory for Democratic Georgia voters, still bristling over alleged voting irregularities that contributed to Stacey Abrams' narrow loss for the governor's seat in 2018.

The win for Warnock, who is based in Atlanta, made him the first Black U.S. senator to represent Georgia and the 11th Black U.S. senator in history. Warnock now rounds out a trio of Black U.S. senators that includes New Jersey Democrat Cory Booker and South Carolina Republican Tim Burton. Warnock's win also gave Democrats a Senate majority.

A New Beginning After Some Really Tough Years

After four years of a president viewed as everything from racist to deeply uninformed and even malevolent, many Americans cheered in the streets when voters elected Joe Biden president and Kamala Harris vice president, making her the first Black person, the first woman and the first South Asian to sit in that seat. 

Harris, the former U.S. senator from California who had been a district attorney in San Francisco was a popular choice among Democratic voters and attracted African American and voters of color who were indecisive on Biden.  For many though, voting for the Biden-Harris ticket was a no-brainer given the alternative was four more years of Trump.

"The dream of justice for all will be deferred no longer," Biden said during his inaugural speech. "A cry for survival comes from the planet itself … Now, a rise of political extremism, white supremacy, domestic terrorism that we must confront and we will defeat."

Justice No Longer Denied, At Least For Now

Given the repeated instances of white police officers acquitted or not charged in the deaths of unarmed Black men, some in Black America were not expecting anything different when former Minneapolis police officer Derek Chauvin went on trial for fatally kneeling on the neck of George Floyd on May 25, 2020. Exulation reverberated throughout the nation on April 21 when a jury convicted him of all charges: second-degree unintentional murder, third-degree murder and second-degre manslaughter.

On July 25th, Hennepin County Judge Peter Cahill sentenced Chauvin to 22.5 years in prison, more than Minnesota's minimum guidelines but less than the 30 years requested by prosecutors.

"I want to acknowledge the deep and tremendous pain that all the families are feeling, especially the Floyd family," Cahill said.

But this saga isn't nearly over. Chauvin, however is appealing the conviction and he and the other officers accused in Floyd's death, Tou Thou, J. Alexander Keung, and Thomas Lane are also facing federal charges. Chauvin recently pled guilty to them. The other three officers are also slated for a state trial in March 2022.

Justice No Longer Denied, Part II

In November, America again waited with anxiety for the verdict of three white men charged in the murder of Ahmaud Abery, a 25-year-old unarmed Black man targeted on Feb. 23, 2020, for going for a run in a rural neighborhood.

As prominent Black pastors from around the country gathered at the courthouse in Brunswick, Ga., the jury found father and son Greg and Travis McMichael and their neighbor, William "Roddie" Bryan, guilty of murder and other crimes. The McMichaels grabbed their firearms and chased Arbery in their truck after he had the audacity to run through their neighborhood. Bryan joined the chase and recorded the murder on his cellphone.

All three will be sentenced Jan. 7 and face a minimum sentence of life in prison.

Turning Back The Clock On Voting Rights

In what many people viewed as a backlash to Georgia's runoff election that sent two Democrats – including a Black man – to the U.S. Senate, Republican state lawmakers from the Peach State passed an election law in March that President Biden derided as "Jim Crow on steroids."

In actuality, some parts of the bill, known as SB 202, tighten voter restrictions, while other parts do not. What pundits said is important to note is that the bill as a whole was based on President Trump's false claims of widespread voter fraud in the election that booted him out of the Oval Office.

Bill Cosby: An Abrupt Change In Fortune

Bill Cosby, comedian, former popular advertising pitch man and America's favorite TV dad before his long, bumpy, head-first tumble from grace, walked out of a Pennsylvania prison in June after a State Supreme Court judge overturned his sex assault conviction. 

Cosby, now 84 and last known to be living at his home in Cheltenham, Penn., had served almost three years of his three-to-10-year sentence when a judge ruled that authorities must honor an earlier prosecutor's promise not to charge the entertainer. Though the legal case revolved around the 2004 drugging and assault of Temple University sports administrator Andrea Constand, about 60 women claimed they were drugged and assaulted by him.

The case and the decision pitted people who believed the allegations and widely condemned Cosby against those who felt Cosby was railroaded with false charges. But he was released because of an agreement that the Philadelphia Supreme Court said was ignored.

R. Kelly: A Long Fall From The Top Of Stardom, A Harder Crash

Two-and-a-half years after a searing Lifetime documentary produced multiple then-underage women who claimed they'd been controlled and sexually assaulted by singer R. Kelly, a federal jury in New York in September convicted the R&B artist on nine counts of recruiting women and underage girls for sexual trafficking.

And while the documentary series seemed to propel the case forward, the singer's conviction came after a quarter century of allegations, including claims that he'd assaulted late singer Aaliyah when she was 13 or 14 – before he married her at 15.

Kelly will be sentenced May 4. He also faces charges in two other states.

That Time Juneteenth Went National, Generations After It Started

At a time when conservative communities have been fighting against the teaching of critical race theory, Washington took a major step in June of recognizing an important part of this nation's legacy and how slavery and racism has affected it: Juneteenth.

Federal lawmakers passed a law making Juneteenth – or June 19th – a national holiday. Juneteenth marks the day in 1985 when enslaved people in Texas, the last holdout of the rebel states, finally learned that slavery had been abolished in 1863. The holiday becoming federalized was the result of years of the efforts of Texas schoolteacher Opal Lee and dozens of others, to make it a reality.

At a bill signing ceremony at the White House, Vice President Harris noted that she and Black lawmakers at the event were standing in place built by enslaved people a few feet from where President Lincoln signed the Emancipation Proclamation.

A Federal Voting Rights Setback – Brought To You By The GOP

Extra Mention

A Century Later, Tulsa Massacre Emerges As A 'Never Forget' Moment In U.S. History