Commentary: Where Black Unemployment Is Worse Than America's
The U.K. has higher unemployment among Black people and the young than America.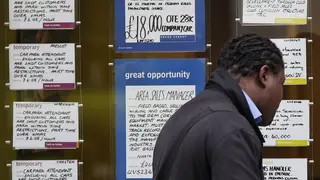 (Photo: Phil Noble/Reuters)
"The sad fact is that for most of the past 50 years, the Black unemployment rate has been above 10 percent," Austin wrote. "While whites have experienced short periods of high unemployment, high unemployment has been a consistent feature of African-American life."
But while many American Blacks are suffering with unemployment, it turns out things are even worse for Black people across the pond. According to a new paper presented by professor Yaojun Li at the British Sociological Association's annual conference last week, Black people in Britain are more likely to be unemployed than African-Americans, especially in times of recession.
Li, professor of sociology at Manchester University, told the conference that in Britain Black male unemployment reached 29 percent in the early 1980s recession, 36 percent in the early 1990s and 22 percent in 2011. Unemployment figures for black men in the U.S. were 22 percent, 17 percent and 22 percent respectively.
Black women in Britain were also worse off than those in the U.S. Unemployment for black women in Britain in the three recessions reached 25 percent, 26 percent and 17 percent, compared with 20 percent, 12 percent and 13 percent in the U.S.
One in 12 Black Brits is now unemployed, compared to only one in 16 in the U.S. Nevertheless, England doesn't have the kinds of established programs designed to help its Black underclass, including things such as affirmative action.
"Britain had no equivalent of affirmative action or 'federal procurement policy which requires institutions to have staff representative of the population,'" reports The Guardian.
"These have really helped reduce the unemployment rate among black people there," Li told the conference.
What does all this have to do with you? Perhaps you say, "African-Americans have enough of our own troubles to worry about without fretting about what's happening with Black people abroad."
Indeed, African-Americans do have a lot to worry about, but ignoring the plights of others is not what moves the world forward. The Black community is large, encompassing people from Harlem to Nairobi to Australia.
If we lose sight of that, we're no better than selfish people who make an effort to ignore civil rights issues at all costs. Racism isn't dead until it's dead everywhere.
The opinions expressed here do not necessarily reflect those of BET Networks.
BET Politics - Your source for the latest news, photos and videos illuminating key issues and personalities in African-American political life, plus commentary from some of our liveliest voices. Click here to subscribe to our newsletter.