Watch Da Brat Perform on 'BET HER LIVE! Hosted by Yo-Yo'
Plus, Da Brat speaks about her platinum music career and how excited she is to be a new mother.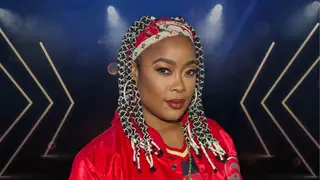 As the first solo female rapper to sell one million albums with her debut release Funkdafied in 1994, Da Brat has always blazed a trail. And now, while expecting her first child, the 50-year old lyricist has proved to her loyal fans that she can still rock the mic. Sitting down in Las Vegas for an interview during "BET Her LIVE! Hosted by Yo-Yo" (that included a surprise pop-up by her wife Jesseca "Judy" Harris-Dupart), Da Brat opened up about the inspiration behind her career and why her future looks so bright.
Hip Hop heads might find it hard to believe, but Da Brat's successful music career wasn't predestined. Living with her grandmother while growing up in Chicago, she spent a lot of time in church. "I was raised in church, where you couldn't wear no makeup, no earrings, no nothing, and your skirts had to be down at your ankles," Da Brat recalled to Yo-Yo. "Sanctified, you could only listen to gospel music—they called the other music the devil's music." Hiding her interest in rap from her grandmother, she wrote poems and lyrics in notebooks. "I stole an LL Cool J tape off the school bus. That was my first tape."
After winning a Yo! MTV Raps contest and meeting Kriss Kross, super producer Jermaine Dupri signed the fledgling rapper to So So Def in 1992. He put her on Kris Kross' track "Da Bomb" in 1993, and she became the breakout star with her own unique sound and flavor. Her dreams of solo success only increased after growing up inspired by the first ladies of hip hop: Queen Latifah, Monie Luv, and MC Lyte. Constantly breaking barriers, Da Brat went on to release four albums and work with legendary artists like Mariah Carey, Lil' Kim, Missy Elliot, Destiny's Child, and Brandy. She was also nominated for two Grammy Awards; one for 1998's "Not Tonight" remix and one for 2004's "Got it Poppin."
After getting married in 2022, the rapper and radio personality embarked on perhaps her most meaningful project. Da Brat told Yo-Yo how she felt about the upcoming birth of their son, even providing details about her harrowing IVF journey.
When eggs were taken from Judy, she ended up with blood clots in her lungs and an enlarged heart. "It became very scary," Da Brat recounted. "I'm not trying to lose my wife." But their challenges weren't over. After an egg was implanted in Da Brat, she suffered a miscarriage. "That was rough. It was depressing. But I'm not a quitter."
And while the second egg implant was successful, controversy arose when Da Brat posted about their process for finding a Black donor. Da Brat was quick to clarify her thoughts and express her reaction to the social media backlash to Yo-Yo.
The "BET Her Live" audience was treated to Da Brat's last performance before she gave birth, and she rocked the crowd with a rousing performance of her hit song, "Give it 2 You."
In honor of the 50th anniversary of Hip Hop," here are eight things you may not have known about one of the genre's most influential rappers.
SHE STARTED OUT WITH A DIFFERENT NAME

When Da Brat (aka Shawntae Harris) first started doing talent shows as a way to overcome her shyness, she performed with a rap group called Xperteez.  Later, she joined a group called Simply Nasty and went by the name Paris Paper Doll. She told a reporter for Blaze that she eventually came up with the moniker Da Brat because her family "always called me a spoiled brat."

HER LOOK WAS INFLUENCED BY AN ICON

As Da Brat was developing her lyrical flow in Chicago, seeing other female rappers would also influence her style. "When I saw Lyte and how she dressed, she was on her Tom Boy shit, I'm like that's me," Da Brat told Yo-Yo. "It made me feel like this is what I want to be in life." But she says she can be a tomboy or an "absolute lady." "I gave myself the title 'The Best of Both Girls," she once told the New York Post.

HER FLOW WAS INSPIRED BY A WORLD RECORD HOLDER

Da Brat says she originally patterned her style after Twista, another Chicago native who once held the title of fastest rapper in the Guinness Book of World Records.

WHY SHE WAITED 25 YEARS TO COME OUT

In an interview with fellow So So Def artist Kandi Burruss in 2020, Da Brat shared that before coming out, fear of disappointing her family kept her silent. It was meeting Judy that made her ready to open up. "I was nervous, but I was like, 'f*ck it' I'm happy, I don't care,'" she recalled about coming out publicly in a 2020 Instagram post. "I'm in love with this woman, she completes me. She makes me feel like I've never felt before," Da Brat told Burress.

WHY JUDY LOVES DA BRAT

When Yo-Yo asked how Judy knew Da Brat was the one for her, she replied: "She's the most nurturing person I ever met. She has this hard shell, she's like rah rah rah, bang bang, shoot 'em up, but she's the most loving person. I've never been loved the way she loves me." In response to the tender moment, Da Brat joked, "Y'all killing my swag."

SHE'S GOT OTHER MUSICAL SKILLS

Da Brat can rock the mic and play the score. She played seven brass instruments in school, and in church she played piano and drums and also directed the choir. "All that musicality from church plays into who I am as an entertainer today," she told Variety. 

JERMAINE DUPRI DIDN'T EXPECT 'FUNKDAFIED' TO BE A HIT

During an appearance on BET's "The Mo'Nique Show" in 2011, Da Brat revealed that when she released "Funkdafied," Jermaine Dupri tried to manage her expectations. "He was like, 'I'ma tell younow, female rappers pretty much only go gold. So if it doesn't do whatever, don't be disappointed.' And I was like, 'Okay...I just want to do music.'" The record went on to peak as the number six single in the country in 1994 and reportedly stayed on Billboard magazine's Hot 100 chart for 20 weeks, cementing her title as the first female rapper to go platinum.

SHE'S SHARING HER TRUE STORY

Da Brat gave birth to her son, True Legend Harris-Dupart on July 6, 2023, at age 49. Her wife posted the exciting news on Instagram: "We are overwhelmed with love. Very appreciative for such a blessing of our bundle of joy. This journey has been more amazing than we could've ever imagined." And when Yo-Yo asked Da Brat what she would say if her son wanted to be a rapper:

"He can be whatever he wants to be. I'm going to support him in whatever he wants to do."