American Money: Could a Blue-Collar Job Be Right for You?
Not everyone needs a college degree to earn a six-figure salary.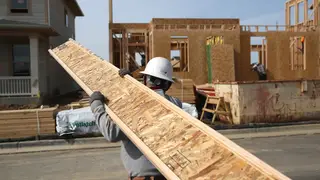 Given the challenging job market, it may be surprising to learn that some of today's highest-paying, in-demand professions are actually blue-collar jobs.
In fact, students unable to go to college can still embark on a rewarding, lucrative career path by learning a skilled trade.
According to the Bureau Labor of Statistics, 40 million jobs will open up between 2004 and 2014 for workers without a bachelor's degree — more than twice the number of jobs for people graduating from four-year colleges.
The outlook is particularly rosy for plumbers, pipe fitters and welders. Employers are having a difficult time finding qualified professionals in these areas, and many workers in this field are set to retire in the next 10 years, leaving more job openings to fill.
Many skilled blue-collar professions still have a long way to go when it comes to diversity and inclusion. For example, African-Americans have historically been underrepresented in the construction sector, a union-driven industry based on inside contacts and an "old boy" culture.
On the other hand, blue-collar professions might be an attractive option for women in particular, since they offer the opportunity to earn higher wages, a pension, career advancement opportunities and greater autonomy than traditional female-designated careers.
But don't be fooled into thinking that these jobs are an easy ticket to quick cash. Though some blue-collar professions only require a high school degree, many of them call for extensive training, apprenticeship and years of hard work before you begin to reap the benefits.
Look toward local trade schools and community colleges for night and weekend courses to help you earn your certificate. However, be wary of predatory trade schools that offer bogus certification. Demanding placement data in writing, thoroughly researching the qualifications you need to enter your chosen field and looking around online to see what other people are saying about your school can help screen out fraudulent programs.
You can seek out apprenticeships through Registered Apprenticeship, a program by the United States Department of Labor, that aims to provide workers with advanced skill sets that meet the specific needs of their employers. Workers need to be at least 16 years of age to participate, though more hazardous occupations may only employ workers 18 years of age or older.
There are also special apprenticeship and training programs available for veterans interested in learning a skilled trade, including one in which GI Bill payments are issued upon earning certification for a certain number of hours every month.
Finally, white-collar workers looking for a career change shouldn't necessarily turn their noses up at blue-collar jobs — as manufacturing becomes more high tech, employers are projected to have increased need for skilled workers with college degrees and computer literacy.
Your dream job may be closer than you think. Try looking into some of these opportunities and you can be on your way to a promising and fulfilling career. 
The opinions expressed here do not necessarily reflect those of BET Networks. 
BET National News - Keep up to date with breaking news stories from around the nation, including headlines from the hip hop and entertainment world. Click here to subscribe to our newsletter.
(Photo: John Moore/Getty Images)