Michigan State Officially Fires Football Coach Mel Tucker 'For Cause'
The head coach was terminated after rape survivor Brenda Tracy accused him of sexual harassment.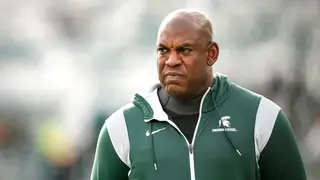 Michigan State University officially terminated head football coach Mel Tucker for sexual harassment on Wednesday (September 28), saying that "he could not present adequate reasons why he should not be fired for cause," CBS News reports.
On Wednesday (September 28), MSU's athletic director Alan Haller confirmed Tucker's contract was terminated 'for cause' in a letter that the school released.
"Simply put, Mr. Tucker's response does not provide any information that refutes or undermines the multiple grounds for termination for cause set forth in the notice," Haller said. "Instead, his 25-page response, which includes a 12-page letter from his attorney and a 13-page 'expert report,' provides a litany of excuses for his inappropriate behavior while expressly admitting to the problematic conduct outlined in the notice."
"As the University previously stated, 'it is decidedly unprofessional and unethical to flirt, make sexual comments, and masturbate while on the phone with a University vendor," Haller's letter continued. "Your unconvincing rationalizations and misguided attempts to shift responsibility cannot and do not excuse your own behavior."
On September 10, Tucker was suspended without pending the outcome of the Title IX investigation after Brenda Tracy, a prominent activist and rape survivor. alleged that she was subjected to unwanted sexual advances from the coach. The investigation into the alleged incident began after Tracy filed a complaint in December 2022. Tracy claimed that Tucker made sexually suggestive comments and masturbated while Tracy "sat frozen for several minutes" during a phone call in April 2022.
Haller described Tucker's actions as "unprofessional and unethical" during a news conference when he announced that he planned to fire the coach on September 18.
"I, with the support of administration and board, have provided Mel Tucker with written notice of intent to terminate his contract for cause," Haller said in a statement at the time. "This notification process is required as part of his existing contract. The notice provides Tucker with seven calendar days to respond and present reasons to me and the interim president as to why he should not be terminated for cause."
Tucker, who has been separated from his wife for several years and has two children, has vehemently denied the allegations that levied and described the encounter with Tracy as consensual.
"Let's be clear. I don't believe MSU plans to fire me because I admitted to an entirely consensual, private relationship with another adult who gave one presentation at MSU, at my behest, over two years ago," Tucker said in a statement earlier this month. "MSU knew about the information on which it supposedly relies to end my contract since at least March 2023. Yet only after Ms. Tracy and potentially others leaked the confidential investigation report to the press, did MSU suddenly decide this same information warrants termination.""
Jennifer Belveal, Tucker's attorney, told the Associated Press that Tucker MSU's "investigation was never interested in the truth."
Before his termination, Tucker was in the third year of a 10-year, $95 million contract, one of the biggest ever signed in college football. According to the school's letter, the remainder of the. contract has been canceled, with Tucker set to forfeit nearly $80 million
Currently, Harlon Barnett is the interim coach for the remainder of the season and former Spartans coach Mark Dantonio has returned to the team as an associate coach.
The Spartans are 2-2 and take on Iowa on Saturday (September 30).
Tucker is scheduled to appear at hearing on Oct. 5-6 to determine if his actions were in violation MSU's  sexual harassment and exploitation policy.