Faith Evans To Follow Through With Divorce Despite Stevie J's Loving Post To Her On Their 4-Year Anniversary
The couple began divorce proceedings late last year.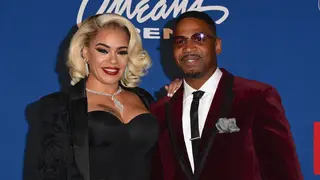 Faith Evans seems to be done with Stevie J, even after he posted a heartfelt tribute to her on the 4-year anniversary.
According to court documents obtained by RadarOnline, the 49-year-old singer "has turned over her financial records to Stevie, 50, including a list of her assets and debts. The move is a necessary step before a divorce can be finalized."
Fans of the couple had held out hope of reconciliation between them, particularly since Stevie had just shared a sweet message on his Instagram page, professing his love for his wife as they celebrated their fourth wedding anniversary.
Back in May, Stevie also publicly apologized to his estranged wife on Mother's Day for all the pain he caused her throughout their relationship.
"I've hurt you, disrespected you and humiliated you in front of the world," he wrote. "From this day forward I promise to listen to your feelings and be more delicate with your heart."
Surprisingly though it was Stevie who filed for divorce from Evans back in November 2021, citing "irreconcilable differences" after then three years of marriage.