New 'Nope' Trailer Finally Tells Audiences What Jordan Peele's Film Is About
'Nope' releases in theaters on July 22, 2022!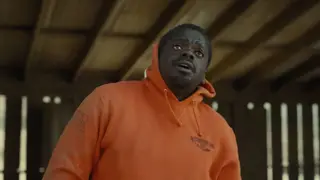 Jordan Peele's third feature film Nope is headed to theaters on July 22 but it has been unclear what the highly-anticipated movie was about until now!
In a newly released final trailer which stars Keke Palmer (Jill Haywood) and Daniel Kaluuya (James Haywood) the pair own a horse training ranch for Hollywood productions and while they have aliens hovering over their secluded property, they come up with a plan to capture and sell authentic first footage of UFOs.
"Ain't nobody gonna get what we gonna get," says Palmer's Jill says. "Undeniable proof of aliens on camera."
Brandon Perea's character Kevin later finds himself on the ranch to set up the new UFO-detecting camera system while Michael Wincott's character Craig plays the role as the Haywood's personal UFO expert.
"I think we pissed them off," Palmer's Jill later adds.
Yet it appears that the aliens have caught onto the scheme and choose to wreak havoc on the ranch in a classic horror fashion with a Jordan Peele twist.
Peele serves as producer under his Monkeypaw Productions banner, in addition to writing and directing the film. Ian Cooper also sits as producer alongside executive producer Robert Graf.
Steven Yeun, Barbie Ferreira, Keith David, Donna Mills, and Andrew Patrick Ralston are also in the film.
Watch the "Nope" final trailer below: