K. Michelle Loses 25 lbs Post Butt Injections Removal And Ordered To Put On Weight
The singer is not afraid to show her scars, though.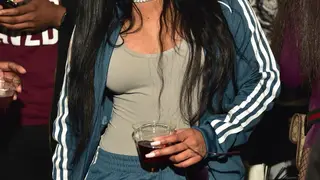 There's no question that big booties were once a trend... and also a health hazard, and no one knows this better than the singer, K. Michelle.
She even shared some advice while on Steve Harvey to women who are considering having their dunks enlarged. "Trends come and go. Don't do trends on your body."
Kimberly has been keeping her 5.3M followers updated on her health via her IG.
Recently, the "Cry" singer shared her post-surgery scars. Captioning the photo "I'm not ashamed of my war wounds! [...] I'm just happy I have no more silicone in my body and I'm in physical therapy to build my muscles again."
She also mentioned in her post that she had a long way to go for complete healing, but we are happy that the Memphis native is making a swift recovery.