Hip Hop Awards 2022: Bleu Rocks The Stage With A Medley Of Hits
French Montana joined the performance.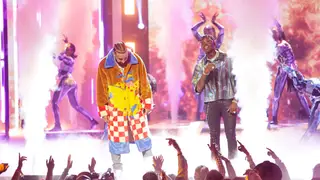 Fans were delighted when they got to enjoy a performance from one of the most versatile artists making music today.  Introducing him by explaining that he is "Where hip hop meets R&B," host of the 2022 Hip Hop Awards Fat Joe brought Bleu to the stage.
The "You're Mine Still" singer performed a medley of his top songs, including: "You're Mine Still," "Baddest," and "Life Worth Living" featuring French Montana.
Montana joined the Alabama native live on stage. Backed by a live band and an intergalactic stage design and visuals, the 28-year-old artist delivered an entertaining performance.
Bleu is coming off the success of the June 2022 BET Awards where he won two awards: New Artist and Male R&B/Pop Artist.
In September, Bleu released the Nicki Minaj-partnered single, "Love In The Way." Keeping up his musical tag-teaming, he also released "Life Worth Living" with French Montana. Since the release of his 2021 album Moon Boy, he's stepped away from his original moniker "Yung Bleu."