L.A. Mayor Karen Bass Reveals How City Prepared for Hurricane Hillary
The city of L.A. took some major steps to prepare for the first tropical storm to hit the region in 84 years.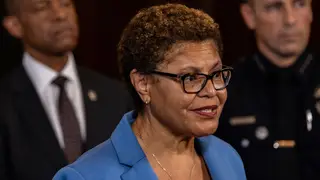 As Tropical Storm Hilary threatened to cause severe flooding throughout Southern California, Los Angeles Mayor Karen Bass opened up about how the city had prepared for the impact of the storm.
"Los Angeles is not used to weather events like this, especially in the summertime, but we are prepared, we are ready," Bass said. "We're asking people to stay home, to be safe if they are outside for any reason and they happen to see fallen trees or power lines, that they stay very far away."
Bass also noted that officials reached out to the thousands of unhoused residents across the city.
"We do have shelters open," she said.
On Sunday (August 21), the National Hurricane Center issued an advisory that Hilary was moving into Southern California by the afternoon and could cause "catastrophic and life-threatening flooding" in the region and throughout the southwestern U.S.
The storm was downgraded from a hurricane to a tropical storm, but severe flooding was still a possibility. Los Angeles officials said the city could see up to three inches of rain with other areas up to seven inches with flash flooding.
Palm Springs Mayor Grace Elena Garner shared with Face the Nation that the city distributed sandbags and cleared storm drains in preparation for flooding.
"Even an inch or two of rain in the desert can cause damage," Garner said."At this point, we're asking residents to stay inside, stay where they are, we don't have any reason to evacuate at this time."
In response to the storm, the Los Angeles Unified School District, which is the second-largest school district in the country, announced that all campuses would be closed on Monday (August 21). The school district of San Diego also postponed the first day of classes from Monday to Tuesday.
Additionally, Southern California also was hit with a 5.1 magnitude earthquake near Ojai, about 80 miles outside downtown Los Angeles on Sunday.
According to the Ventura County Sheriff's Office, no injury, casualties, or major property damage has yet been reported.