Tammy Williams To Be First Black Woman To Own $135 Million Production Studio In Atlanta
Tyler Perry, until now, was the only Black person to own a studio in Georgia.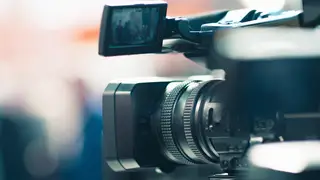 Award-winning producer and CEO, Tammy Williams, is bringing her production studio to Fayette County in Atlanta, Georgia.
According to Deadline, she's the first Black woman to own a production studio in the state. Up until this point, Tyler Perry was the only Black person to own a production studio in the state of Georgia.
For 12 years, Williams and her business partner Gary Guidry, CEO of G-Square Events, have worked relentlessly to make the 60-acre studio a reality. They founded Cinema South Studios, "a one-stop shop for movie studios, filmmakers, and production companies," the site describes.
"We've been patient," Williams told AJC in February, sharing how long of a journey it's been to arrive at the groundbreaking moments of her $135 million production studio. "This has not been an overnight thing — this vision for us."
The studio has eleven soundstages, a back-lot, lighting and grip rental house, props and wardrobe. The production facility will have a transportation company, as well as an office building for post-production and a theater.
They plan to have two of the eleven soundstages operating by 2023.
Guidry spoke to the increasing global demand for soundstages and the lack of representation and ownership for Black people in these spaces.
"The demand for soundstages is happening globally and the ownership rarely looks like us let alone an African American woman," Guidry said. "When I choose to invest, I evaluate the need of the business and the ownership. Investing in Tammy Williams and her team of professionals convinced me that buying the land in Fayetteville, GA."
Williams has over 25 years of experience within the film/television industry, according to IMDB. In 2016 she founded Tammy'Dele Films, a film, television, and digital production company.