Cleveland Police Call Andrew Hawkins's T-shirt 'Disrespectful'
Browns wide receiver demands justice for Tamir Rice before Sunday's game.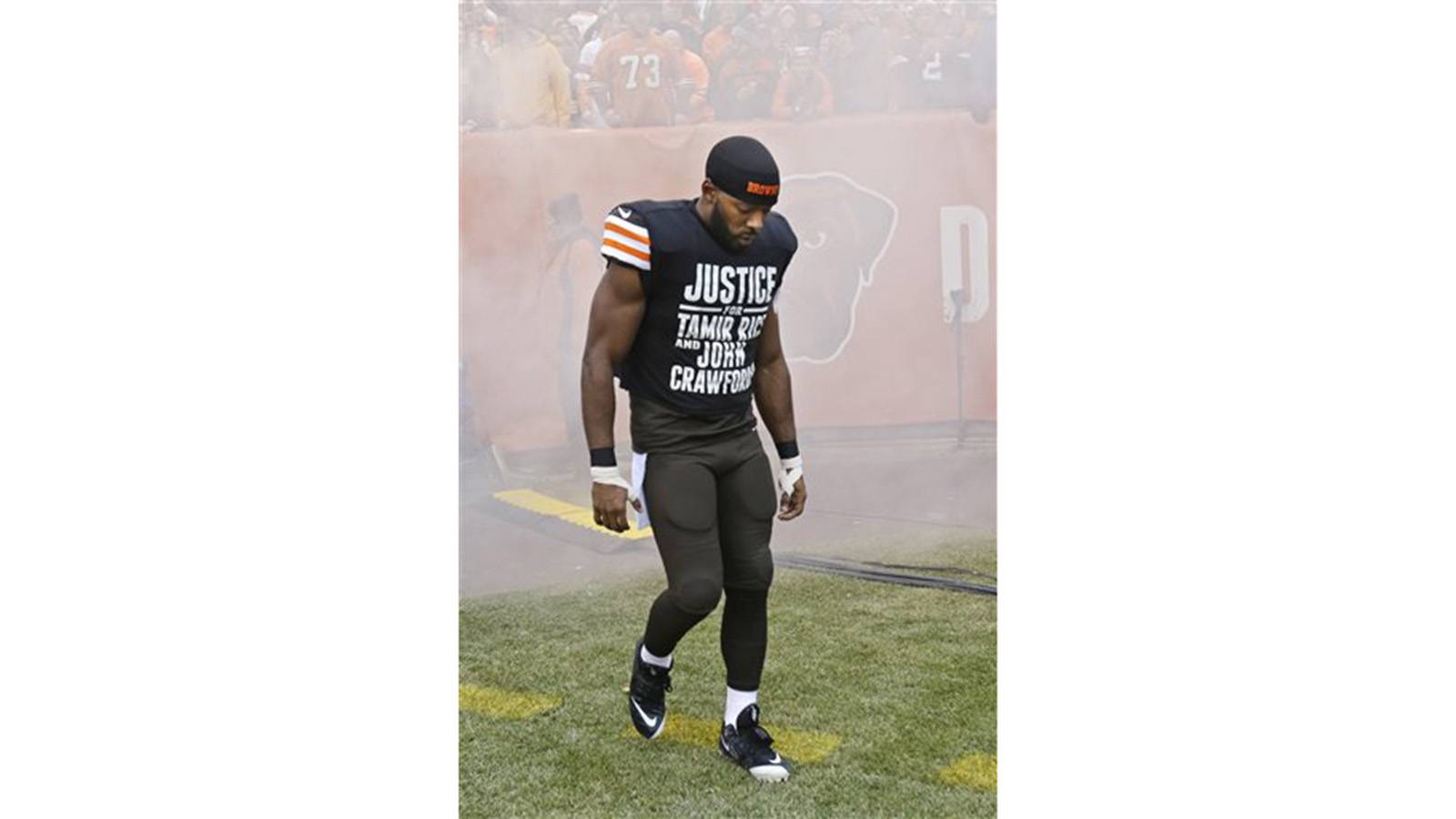 Sunday's NFL game between the Cleveland Browns and Cincinnati Bengals represented the battle for Ohio. Although the Bengals won convincingly, 30-0, Browns wide receiver Andrew Hawkins made a statement of a different kind.
During warm-ups, Hawkins wore a T-shirt that said, "Justice for Tamir Rice and John Crawford," on the front and "The Real Battle for Ohio" on the back. The shirt was in reference to Rice, a 12-year-old boy who was fatally shot by Cleveland police officer Timothy Loehmann on November 22 after carrying a fake gun. The 22-year-old Crawford was also shot dead by police, this past August, while holding a toy rifle inside a Walmart in Beavercreek, Ohio.
Hawkins's freedom of expression didn't sit well with everyone, especially the Cleveland police union president, Jeff Follmer, who took offense to the wideout's statement.
"He's an athlete. He's someone with no facts of the case whatsoever," Follmer told Cleveland.com. "He's disrespecting the police on a job that we had to do and make a split-second decision. He should stick to playing football and let us worry about law enforcement. The players don't know what our job entails. Don't judge us by what you're reading in the media."
The Browns themselves issued a statement through the media, as reported by Cleveland.com, saying they respect the Cleveland Police Department, but their players are allowed to support issues publicly outside of football.
"We have great respect for the Cleveland Police Department and the work that they do to protect and serve our city," the Browns statement read. "We also respect our players' rights to project their support and bring awareness to issues that are important to them if done so in a responsible manner."
Click here to win a trip to the Super Bowl Gospel Celebration in Phoenix, AZ, plus 4 tickets to the Big Game. 
BET Sports News - Get the latest news and information about African-Americans in sports including weekly recaps, celebrity news and photos of your favorite Black athletes. Click here to subscribe to our newsletter. 
(Photo: AP Photo/Tony Dejak)