Baltimore Officer Keona Holly Dies After Being Shot In Police Car Ambush
The 39-year-old mother of four joined the force two years ago.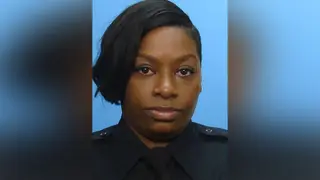 Baltimore Police Officer Keona Holley has reportedly died just a week after being shot in an ambush while seated in her patrol car.
According to the Baltimore Sun, the 39-year-old mother of four and two-year veteran of the force, was shot in the head while working an overtime shift early Thursday (December 16) in Curtis Bay. She had been on life support at the University of Maryland Shock Trauma Center.
A statement issued by the Baltimore Police Department Thursday evening shared that Holley's family, in consultation with doctors, decided to remove her from life support in what they described as "the most difficult decision." She was pronounced dead shortly afterward.
"Baltimore will never forget Officer Holley's sacrifice and commitment to making a difference in her beloved city," Baltimore Mayor Brandon Scott said, according to the Sun. "I ask that everyone please keep Officer Holley's family in your prayers as they endure the holiday season without their mother, daughter, sister and loyal friend."
A vigil was held for Holley late Wednesday afternoon by community members who prayed for a "miracle." She was regarded as the "Mom from the West Side," who made an impression on residents and her fellow police officers.
Two men have been charged in the shooting, as well as for a second killing – that of 38-year-old Justin Johnson, which happened about 90 minutes later in Southwest Baltimore.
A motive still remains unknown and the police investigation is ongoing.