NeNe Leakes Leaves 'Real Housewives Of Atlanta' And Andy Cohen Reacts
She is the last original cast member on the reality show.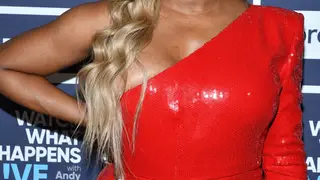 NeNe Leakes has been debating for months if she will leave Bravo's Real Housewives Of Atlanta. Now, it's official, the fan favorite is giving up her coveted peach. 
In a video posted to her YouTube channel on Thursday (September  17), the 52-year-old reality star and actress said she would not be returning for RHOA's  thirteenth season. She explained that after "emotional negotiations" she could not reach a deal with Bravo.

She also said, "There's been a lot of emotions on both sides. It's been hard and I have made a hard, difficult decision to not be part of Real Housewives of Atlanta season 13. It wasn't an easy decision for me. It was hard."
A spokesperson for Bravo told TMZ in a statement, "We wish Nene all the best in her future endeavors and thank her for sharing her journey for over a decade with the fans of 'The Real Housewives of Atlanta.' She's been instrumental since the start and will truly be missed, and maybe one day she'll hold the peach again."
Andy Cohen also posted on Instagram, "Nene Leakes is an icon of the genre. She is a gif and catchphrase machine. In 11 years of #WWHL, Nene has been our most frequent guest, and she is always A BLAST."
He added, "I am going to miss Nene on the show, but I'm hoping we work together again soon and will remain in each other's orbits forever."
This may not be the end for NenNe, she left the show briefly for season 9 and returned by season 10.