Usher On Possibility Of Performing At Future Super Bowl Halftime Show: 'Of Course'
The superstar R&B singer told BET his thoughts about possibly gracing music's biggest stage.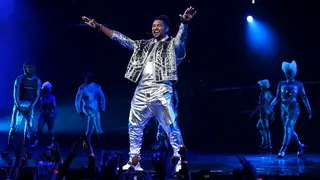 Usher has been creating a lot of headlines recently from his 2023 My Way: The Las Vegas Residency, including viral appearances from celebrities at certain dates of his Sin City shows stint as well as a general flower presentation to one of the greatest entertainers of his generation.
Back in February, BET spoke with the legendary R&B singer-songwriter, just days before he was scheduled to start his Vegas residency. During the interview, which was also not long after Super Bowl LVII had taken place, we asked Usher point-blank if he'd be interested in performing at a Super Bowl halftime show.
"Of course," he replied, before being prompted with the response, "That simple?… okay [laughs]."
"I mean it goes without saying," Usher added. "It's a major moment for any performer to be welcomed to that. There's people that have some opinion about it, but yeah, I would love it."
The question over whether Usher would perform at a future Super Bowl came amidst an online debate that had taken place over whether the Confessions singer had enough hits to sustain a full 15-minute set on music's biggest stage. That question was prompted by Twitter user @asj519, who tweeted: "I know y'all think Usher should perform the next SB but I don't think he has enough pop/hip-hop hits."
This was met with replies who disagreed, like that of user @ezrock5 who replied: "Are you serious? His first album came out in like '95," while @eleven8 tweeted: "He's got 18 songs in the Billboard Hot 100 aka crossovers. I think he can fit those in 13 mins."
Let's just say it was hard-pressed trying to find anyone who agreed with the debate initiator. Presumably, the next move is on the 2024 Super Bowl Host Committee who is in charge of all of the planning and execution of Super Bowl LVIII in Las Vegas.
How fitting the location…