BET Exclusive: Obama Talks Race, Racism and How Far America Has to Go
President Obama urges persistence in confronting racism and bias.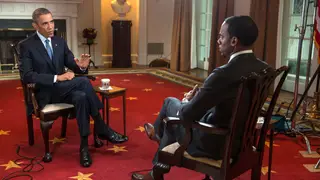 Barack Obama – not the president, but the man – has a dream: his children will be viewed as individuals and judged not by the color of their skin but based on the content of their character, their behavior and their talents and gifts. Sadly, he observed in an exclusive interview with BET Networks, "misguided attitudes" mean that people of color still have less margin for error, particularly if they are male.
The good news, the president said, is that younger generations have evolved on the issue of race, which is evidenced by the sea of multi-ethnic faces in the crowds at coast-to-coast protests taking place in response to the Michael Brown and Eric Garner tragedies.
"They've got a better attitude and a clearer mindset and a greater empathy for what's going on. And I think each successive generation, as it gets more understanding, more familiarity, more comfort with people of other races and other cultures, then some of this dissipates," Obama said, referring to the "deeply rooted" racism that still plagues this nation.
Hours before the interview aired, his critics on the right began lashing out at him for, according to Breitbart News, "playing the race card more overtly than ever before." Others will say it's about time he spoke up about the series of police-involved deaths of a disproportionate number of African-American men, which he acknowledged. But he also said that "institutionally" he is required to remain silent during the investigations of those incidents, which would be compromised "if it appeared that I was trying to steer to a particular outcome."
That doesn't mean he does not empathize with those who've expressed their anger and frustration more publically. The president recalled a meeting he had last week that included several young African-American leaders whose experiences of being stopped or treated suspiciously for no reason reminded him of his own. He also said that as long as the protests remain peaceful, they are necessary
"And that's why I had them in the Oval Office, some of these folks who've been organizing these protests.  Because the old adage, power concedes nothing without a fight — I think that's true," said Obama.  "But what's also true is that a country's conscience sometimes has to be triggered by some inconvenience, because I think a lot of people who saw the Eric Garner video are troubled, even if they haven't had that same experience themselves. Even if they're not African-American or Latino." 
But time sometimes causes interest to wane or another headline grabs the public's attention, he added, so "the value of peaceful protests, activism, organizing is it reminds the society this is not yet done."
During the 30-minute interview, Obama outlined some of the steps his administration is taking to try to address disparities in the nation's criminal justice system. In 90 days, a new task force will present recommendations on issues such as how to train and equip law enforcement and hold them more accountable. He also is prepared to withhold funding to jurisdictions that eschew best practices identified.
"We're going to provide more [funding] to folks who are doing the right thing and we're going to be investigating folks who are not doing the right thing," he warned. "I think that becomes an important part of the leverage that we can exert."
Obama does, however, believe that the "vast majority" of law enforcement officers are doing a good job and "trying to do the right thing."
"But a combination of bad training, in some cases; a combination in some cases of departments that really are not trying to root out biases, or tolerate sloppy police work; a combination in some cases of folks just not knowing any better, and in a lot of cases, subconscious fear of folks who look different — all of this contributes to a national problem that's going to require a national solution," he said.
It's also not a problem that can be solved overnight, but it's important to acknowledge the progress already made and older generations will attest that racism in America is not as bad as it was 50 years ago, Obama said. In some cases it's still "not good, but better," he conceded, but that's why he's pushing young people to be vigilant and persistent in their efforts to uproot racism and bias in American society.
"This is not only personal for me, because of who I am and who Michelle is and who our family members are and what our experiences are, but as president, I consider this to be one of the most important issues we face. Because America works when everybody feels as if they are being treated fairly and that they've got a fair shot," Obama concluded. "And whenever we are unified in trying to uphold our ideals, then this country can't be stopped. And when we are divided and people feel as if those ideals are being betrayed, that holds us back in every aspect of life." 
BET Politics - Your source for the latest news, photos and videos illuminating key issues and personalities in African-American political life, plus commentary from some of our liveliest voices. Click here to subscribe to our newsletter.