Viral TikTok Sensation "Corn Kid" Partners With Green Giant For Thanksgiving Campaign
We love to see it!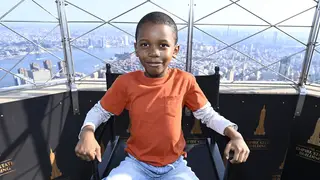 Viral TikTok star Corn Kid continues to amplify his presence as he recently partnered up with popular food company Green Giant for the cutest Thanksgiving campaign.
The 7-year-old sensation commented on the campaign, posing the question "What's Thanksgiving without corn?"
"Thanksgiving is practically a holiday about corn," he continued in the news release.
"I mean, every day could be a holiday if you get to eat corn at some point - but this is the one day that we get to stay home with family, watch a big parade, and then eat corn. Lots and lots of corn. It's my favorite day of the year!"
The week-long partnership will show the young star creating various corn side dishes with Green Giant products, donating canned Green Giant veggies to a food bank, and attending the Macy's Thanksgiving Day Parade.
The food brand created two new recipes to support the campaign, with Corn Kid's Corniest Mac 'n' Cheese and Corn Kid's Corn Casserole to push extra corn onto the more traditional side dishes this Thanksgiving.
"We are very excited to partner with Corn Kid this Thanksgiving as his enthusiasm for corn rivals that of the Green Giant himself," said Kristen Thompson, Senior Vice President & President, Frozen & Vegetables, B&G Foods.
"Corn Kid has a giant heart and we are thrilled to help him share his love of corn with his community this Thanksgiving with an enormous donation of our canned veggies."
The fun and healthy partnership will end with a bang on Thanksgiving day with Corn Kid appearing as a special guest on the Green Giant® Harvest in the Valley float in the Macy's Thanksgiving Day Parade.
Watch the cute campaign video below.